The Commonwealth of Pennsylvania has no coastal border, yet its ports and supporting rail, air and road infrastructure make it a key player in U.S. domestic and international commerce. The Keystone state has the Port of Erie, with the system's largest crane in the Great Lakes St. Lawrence Seaway system; Pittsburgh, the country's second-largest inland port; and Philadelphia, the country's fourth-largest port for imported goods.
Great Lakes Port
Erie is one of 11 U.S. cities handling goods shipped along the Great Lakes. This inland port, located within a 500-mile radius of 85 million people, moves 550,000 tons of cargo annually according to the Pennsylvania Department of Community and Economic Development. Its harbor channel is 29 feet deep. A $42-million shipbuilding industry rounds out the port's maritime operations.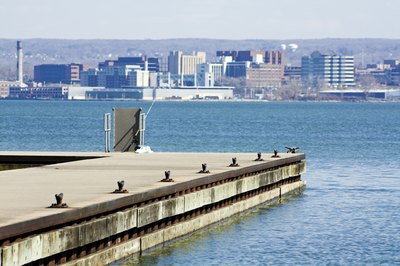 Port of Three Rivers
The port city of Pittsburgh owes its position as the 17th-busiest U.S. port overall and second-busiest inland port to the Allegheny, Monongahela and Ohio rivers surrounding it, according to the Port of Pittsburgh Commission. More than 44 million tons of goods and raw materials pass through the 200-plus terminals along Pittsburgh's rivers each year. A system of 17 locks and dams keeps the port's rivers navigable. The port considers Monterrey, Mexico and Duisburg, Germany sister port cities.
City of Brotherly Love
Philadelphia has a 300-year history as a center of maritime trade. According to the Philadelphia Regional Port Authority, nearly 6 million metric tons of cargo pass through its port annually. The port features two marine terminals -- Tioga and Packer Avenue -- and seven piers ranging in depth from 32 to 50 feet dedicated to handling agricultural, forestry and steel products and other goods. In addition to handling more than 25 percent of cargo along the North Atlantic, Philadelphia is one of 22 U.S. cruise ship terminals and one of 14 U.S. ports for military cargo shipments abroad.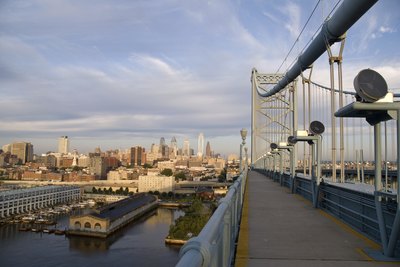 Significance to Trade
The ports of Philadelphia, Erie and Pittsburgh give businesses access to six of the 10 largest cities in the U.S., including New York, Chicago and Baltimore, as well as 60 percent of the population of Canada via interstate highway or rail. Goods can continue by water from Pittsburgh's Ohio River down the Mississippi River to Midwestern markets, the Gulf of Mexico or the Pacific Ocean via the Panama Canal.