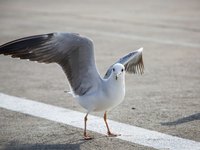 Anyone who has spent time at the beach recognizes seagulls as an indispensable element of the coastal experience. Although they may look virtually identical to the casual observer, at least 28 distinct types of gulls inhabit North America alone; these scavenging birds range in size from about 1 foot in length to 2 1/2 feet, and may also be distinguished on the basis of color.
California Gull
This medium-size seagull has an intriguing history. The state bird of Utah, it is credited with helping early Mormon settlers in the area fend off a veritable plague of crickets. Their bodies are almost entirely white, although they have some gray on their backs and wings. Their yellow beaks have a characteristic black ring around them close to the tip. They are found in wet inland areas of western North America such as marshes and lakes, and contrary to what their name suggests, they actually inhabit California only in the winter, following their seasonal migration.
Common Gull
The common gull forms three distinct geographical populations -- one in eastern Eurasia, another in western Eurasia and the third -- called the Mew gull -- in Alaska and western Canada. At 17 to 18 inches in length, these birds are smaller than most seagulls. They have short, tapered beaks with a greenish hue to their yellow color. Their feathers are chiefly white on their undersides and gray on their backs. Like most seagulls, they are omnivorous and seek out both living prey and nonliving sources of sustenance.
Ring-Billed Gull
Ring-billed gull range far and wide; their natural habitat spans much of both North and Central America, and they may be occasionally found in Europe as "vagrants." They are found on both U.S. and southern Canadian coasts as well as along the Great Lakes. In the winter they inhabit places as far south and overseas as Cuba and Hawaii. These are highly social gulls even at non-breeding times, and they regularly engage in playful activities such as dropping objects in flight and sweeping them back into possession before the objects can hit the ground. They are usually 18 to 22 inches long, and the ring that gives them their name lies at the tip of the beak.
Herring Gull
This unusually large gull, which reaches about 26 inches in length, is also versatile. It not only thrives in coastal areas of Asia, North America and western Europe, but has adapted to life in larger inland cities too. Some species are migratory, while others stand pat in the colder months, including those on the chilly Great Lakes. From a taxonomical standpoint, as many as eight or as few as two distinct species of herring gulls exist, depending on the ornithologist you consult. They have a characteristic pale ring of skin around each eye.