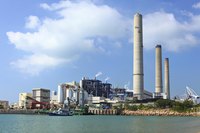 Industrial facilities release approximately 4.7 million tons of toxic chemicals into the environment every year according to real time world statistics from the Worldometers website. Each type of waste chemical affects on the areas where it lands.
Fossil Fuels
Factories that use huge industrial air conditioners often release gases that exacerbate the greenhouse effect that warms the Earth. According to the Environmental Protection Agency, over half of the greenhouse gases produced come from factory emissions. These include carbon dioxide gasses from industrial and electricity-generating factories. Fossil fuels produced by factories also contribute to sulfur dioxide's release into the air. This chemical is the key component in the phenomenon known as acid rain. This phenomenon is responsible for damaging forests, cities and other aspects of the landscape.
Pesticides
Factory farms that use of pesticides on plants they feed to their animals can cause significant damage to local animals, which affects biodiversity according to the Grace Communications Foundation. Pesticides can also lead to birth defects and cancer in humans. People who work on farms often have high exposure to pesticides so they are at high risk for these health problems.
Animal Manure
Just one hog on a factory farm produces 17.5 pounds of waste per day according to Grace Communications Foundation. This builds up quickly since factory farms that have 35,000 hogs produce more than 200 million pounds of waste per year. The problem is that this waste isn't treated the way human waste is. This lack of filtration and proper management means that lagoons of manure in factory farms sometimes find their way into local water supplies. This unfiltered manure is full of germs, high doses of antibiotics and growth hormones, which can make local populations of people and wildlife sick.
Heavy Metals
Factory workers are often exposed to waste from factories in the form of heavy metals since they interact directly with these metals on a daily basis. An example of this is excess cadmium that's used in factories that create batteries or use welding or soldering techniques. Factories that burn coal often release cadmium particles into the air, which factory workers and others who live nearby then breathe in. Cadmium poisoning can cause damage to the lungs or be a source for kidney disease in people according to the EPA. Heavy metals like cadmium, mercury, lead and others are hard to extract after the human body has absorbed them.