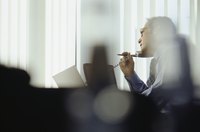 Hardworking executives are usually rewarded generously through total compensation and benefits packages, as well as special perks. Executive perks run the gamut from vacation homes to multi-million dollar employment contract bonuses called golden parachutes. Organizations can guarantee executive loyalty just by devising ways to reward highly compensated employees with grandeur far beyond your average employee benefit package. Typical executive perks include company cars, benefits for spouses, first-class travel and accommodations, invitations to parties, tickets and box fees to sporting events and other lavish gifts that lend prestige to the already powerful role of an executive.
Perks by Definition
Perks aren't tied to executive performance, nor are they even directly tied to executive compensation. Perks are payments and gifts that become part of an employment contract, usually for highly compensated executives. Their purpose is simple: They are designed to make life more enjoyable for an executive. Many executive perks also make the lives of the spouses much easier, too. In times of economic downturn, executive perks come under public scrutiny, however.
Spousal Advantage
Being the spouse of an executive has its advantages. Aside from not having to build or manage a career of her own, an executive's spouse benefits from the lavishness of certain perks. Some spouses enjoy free travel wherever their spouse's business takes them. At times, business trips can extend into vacations for spouses and, in some cases, the entire family. When spouses accompany their executive partners, they also enjoy the first-class travel benefits generally provided for the executive in addition to premier accommodations, social events and even star-studded events that shine the spotlight on them as well.
Transportation
Air travel isn't the only form of high-end transportation afforded to executives. Many executives benefit from perks such as company cars or sometimes chauffeured limousines to ferry them to and from work, as well as around town for personal use. Company cars can be expensed by the organization. For some executives, the cost of gasoline, maintenance and other expenses associated with automobile ownership become the company's responsibility.
Home, Sweet Home
While many executives may prefer to purchase their own homes, some employers give their executives perks such as use of vacation property. When an executive must relocate to be closer to work, relocation expenses are included in perks. Relocation expenses for executives are usually much more generous than the average relocation package offered to staff. Companies purchase executive homes, which makes it easier to unload real estate quickly to buy a home in a new city. Other typical executive residence perks include the company providing a temporary residence for the executive and her family.
Recreation
Invitations to exclusive parties and special seating at sporting events are typical executive perks. For example, box seating for events such as the Super Bowl are among the most coveted executive perks. Super Bowl perks for Apollo Group executives in 2010 included attendance for executives and their guests at the football championship game – attendance meant an all-expense paid trip to the Super Bowl for the executive and four guests.
Golden Parachute
Highly paid executives often have what are called "golden parachutes" -- a lucrative payout the executive is guaranteed should his services no longer be necessary. The metaphor suggests a comfortable landing without worry about financial concerns after the employment contract ends. Golden parachutes can total millions of dollars for executives of major corporations.