A Christmas dinner blessing typically consists of a short prayer with the family gathered around the table. Have your family stand in a circle and hold hands while you or another family member delivers the prayer. The blessing is an opportunity for your family to give thanks for a meal as well as to recognize the spiritual significance of the holiday. Depending on your preference, your Christmas prayer can not only praise the birth of Jesus but also request guidance from God for the upcoming year.
(Believe_In_Me/iStock/Getty Images)
Find a poem written by a renowned poet that resonates for you and your family. For example, consider Robert Louis Stevenson's "A Christmas Prayer," which starts with "Loving Father, help us remember the birth of Jesus, that we may share in the song of the angels, the gladness of the shepherds, and the worship of the wise men." If you prefer to use a rhyming poem, consider Anne Bronte's "Music on Christmas Morning," of which the last stanza reads, "Now holy Peace may smile from heaven, And heavenly Truth from earth shall spring: The captive's galling bonds are riven, For our Redeemer is our king; And He that gave his blood for men Will lead us home to God again."
Fuse/Fuse/Getty Images
Use a passage from the Bible as a formal prayer to celebrate Christmas. For example, cite a paragraph from Luke 1:46-55, which begins, "My soul glorifies the Lord and my spirit rejoices in God my Savior, for he has been mindful of the humble state of his servant. From now on all generations will call me blessed, for the Mighty One has done great things for me" (NIV). You can also recite "A Christmas Prayer," written by Martin Luther, a 15th century German theologian whose work prompted the Protestant Reformation. Luther's poem begins with an address to Jesus as follows: "Ah, dearest Jesus, holy Child, Make thee a bed, soft, undefiled, Within my heart, that it may be A quiet chamber kept for Thee."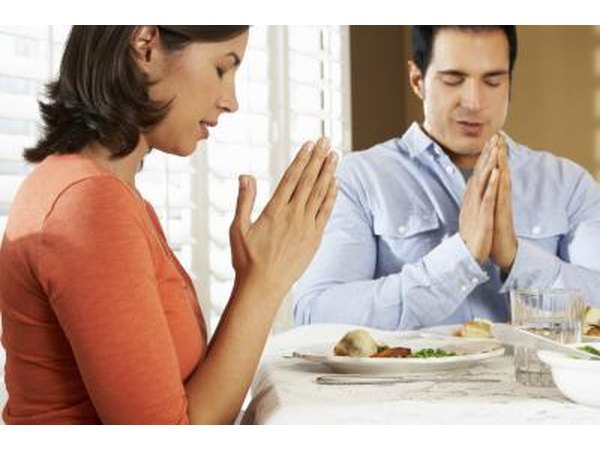 monkeybusinessimages/iStock/Getty Images
Speak from the heart, expressing gratitude for the food on the table and what Christmas means to you and your family. Ask for Jesus' blessing, and bless the ones you love. Keep the Christmas dinner blessing impromptu and spontaneous. You can also involve the entire family in the blessing, inviting them to say grace. Have them take turns or conduct the blessing like a Quaker meeting, in which people rise when inspired to speak.
Wavebreakmedia Ltd/Wavebreak Media/Getty Images
Allow your children to write and deliver the Christmas dinner blessing. Discuss first the meaning of the holiday, explaining the birth of Jesus and his teachings. Have your children begin the blessing with "Happy Birthday, Jesus," and allow them to compose the rest. Encourage your children to write at least one reason why Jesus is important to them. Ask them to recite their blessing before the meal is served.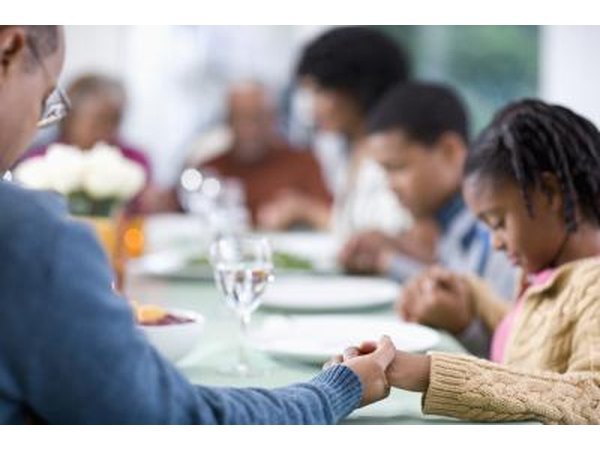 Fuse/Fuse/Getty Images
Promoted By Zergnet