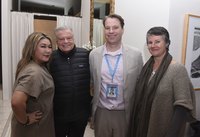 The types of businesses in the economy range from service companies, such as restaurants and beauty salons, to companies that provide products, such as a tennis shoe manufacturer or an automobile company. Whatever the underlying business, all companies are generally engaged in three types of activities: sales and marketing, operations, and finance.
Sales and Marketing
The sales and marketing activity of a company is usually the primary source of generating revenue. The marketing staff is not only responsible for advertising products and services, but also for studying market trends and consumer preferences. It is the responsibility of the sales staff to actively pursue potential customers and engage them with the company's business.
Operations
Operations is a fairly broad term which generally encompasses an organization's performance of its main functions. In other words, operations is what the company is in business to do. For a fast food company, for example, operations would include the actual process of making the food and serving customers. For a manufacturing company, operations would include the process by which the products are created in a plant or factory.
Finance
The finance activities of a company are primarily focused on generating and managing financial capital for the firm. For example, a company's finance officer might be primarily concerned with locating potential investors to put money into the company or to determine the proper balance between debt and equity for the company. Additionally, the finance activities will often include monitoring various branches of a company to determine which ones need improvement or even need to be eliminated.
Profit Maximization
While sales and marketing, operations, and finance are three important specific activities of a company, it should not be overlooked that these three activities are all performed in conjunction with one another to achieve the ultimate goal of most companies: profit maximization. According to most viewpoints, a company's primary activity should always be to generate as much profit as possible for its owners or shareholders. This might mean selling as much product as possible, having operations run as efficiently as possible so as to cut costs or leveraging a company's financial capital as profitably as possible.