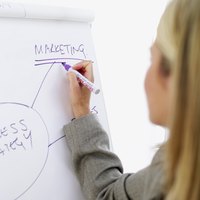 A transactional business strategy seeks to maximize revenue and decrease costs during the actual sale of a good or service. Unlike marketing strategies that focus on acquiring customers before a sale and servicing them after, this focuses on what occurs during each individual transaction.
What Is a Transaction?
A business transaction features an exchange of goods or services for money, credit or something else of value. When you shop at a grocery store, the transaction occurs when you check out. The discounts, free samples and other promotions you see while in the store are not part of the transaction. A transactional strategy is very helpful when a business has a captive audience that wants or needs to buy and does so frequently or in large volumes. An example would be fans attending a sports event who want to eat or drink during the game.
Examples of Transactional Strategy Techniques
During a transaction, you might be asked if you want to purchase a warranty, sign up for a store credit card, add another item to your purchase or upgrade to expedited shipping. You also might be given a coupon or earn bonus points for a future purchase at the time of the transaction. All of these techniques can increase spending with the store. In business-to-business transactions, the seller might offer a discount on cash sales, reducing its risk of bad debt and decreasing its expenses related to extending 30- or 90-day credit terms.