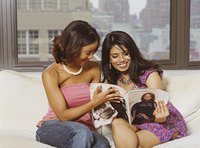 Celebrity endorsements and testimonials link to consumer psychology and behaviorism principles. In theory, matching the right celebrity to the right product or service will increase the appeal of an advertisement and the product or service offered. The ultimate goal is to sway consumers' purchasing decisions, sometimes directly and sometimes indirectly.
Classical Conditioning
Some advertisers use a behavioral psychology concept, called classical conditioning, that attempts to persuade consumers to link a celebrity to a product or service. With classical conditioning, the celebrity is the unconditioned stimulus, which is a stimulus that evokes an immediate response. The business, product or service is a neutral stimulus, which typically evokes no immediate response. The goal is to use both to create a conditioned response. For example, when a celebrity endorses a product, the objective is to create a positive mental picture for each consumer.
Name Recognition Translates to Product Recognition
Of the thousands of images consumers see each day, most can recall very few. Using a celebrity as part of a marketing message can increase the chances that your company will be among the remembered few. One reason for this relates to information overload, Robert Cialdini, a professor and author of "The Psychology of Persuasion," told The New York Times. As more information becomes available, simple associations such as linking a celebrity's name to a business or product are more likely to become embedded in someone's memory.
Lifestyle and Status Marketing
Businesses often use celebrities to create an association between a product and the real or perceived lifestyle a celebrity leads. This tactic, called lifestyle transference, often involves a direct endorsement designed not only to reach a specific target market, but also to persuade consumers to become better athletes, live healthier lives or improve themselves in some other way. In a 2009 column for the CNN website, Anita Elberse, a Harvard Business School associate professor, says lifestyle transference tactics are especially effective with star athletes.
Everyone Needs To Be Needed
Advertising campaigns that feature celebrities often do so to appeal to the basic human desire to be needed. According to an article by Dr. Richard F. Taflinger of Washington State University, these ad campaigns attempt to link a product or service to a celebrity's sex appeal. These products and services might range from cosmetics, hair dye, perfume and cologne to weight loss programs and even vehicles. The goal is to persuade consumers that making a purchase will make you as beautiful or handsome as the celebrity -- and therefore more desirable.