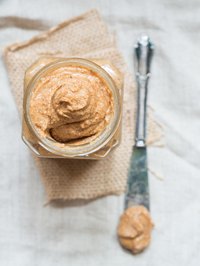 Eating a handful of nuts most days has been associated with a significantly lower risk of heart disease, and may also help prevent weight gain and protect against Type 2 diabetes. Although regular nut consumption is defined as eating 1 ounce of nuts five times a week, nut butter -- provided it's the minimally processed kind that only contains nuts -- is a source of the same nutrients and phytochemicals, and can contribute to your overall intake.
Effects of Roasting
The primary difference between roasted nuts and raw nuts -- and between the butter made from each -- is flavor. Raw nuts are mild and slightly sweet, while roasting brings out a richer, nuttier flavor. Although the roasting process reduces a nut's water content, it doesn't affect other nutrients significantly. Dry-roasted peanuts supply about the same amount of calories, protein, fat and fiber as raw peanuts. Dry-roasted peanuts are slightly lower in calcium, iron and vitamin E, but they're a comparable source of magnesium, phosphorus and potassium, and a better source of most B vitamins. Apart from being a bit higher in saturated fat, oil-roasted peanuts are nutritionally similar to the dry-roasted variety. Likewise, dry-roasted almonds have nearly the same nutrient profile as raw almonds.
Basic Nut Butter
All it takes to make nut butter is a few cups of nuts and a food processor. While peanut, almond and cashew butter are the most commonly available commercial varieties, virtually any nut can be processed into nut butter, including walnuts and pecans. You'll get just under 200 calories from a 2-tablespoon serving of most minimally processed nut butters, which is comparable to the amount of calories you'd get from a 1-ounce serving of most whole nuts. Although some commercially produced nut butter products may list raw nuts or roasted nuts as their primary ingredient, not all products identify exactly how the nuts they contain were processed -- minimally processed peanut butter products often simply list peanuts as their main ingredient.
Less Healthy Options
Single-ingredient nut butter, whether it's made from raw or roasted nuts, is a suitable choice for virtually any healthy diet. Although it must be stored in the refrigerator and stirred before use, nut butter doesn't contain the kind of unhealthy ingredients that manufacturers often use to enhance flavor and promote shelf stability. Many commercial nut butter products -- particularly peanut butter products -- get their smooth texture and long shelf-life from hydrogenated or partially hydrogenated oils, which are a source of unhealthy trans fats. These nut butters are also more likely to contain added sugars. High fructose corn syrup, corn syrup solids, evaporated cane juice and molasses are some of the many forms of added sugar found in such products.
Other Considerations
After two major salmonella outbreaks were traced to raw almonds in the early 2000s, almonds must be pasteurized before they're sold for consumption in the United States. Almonds are typically pasteurized by being exposed to high temperatures or steam. Because properly pasteurized almonds have been found to be nutritionally equal to unpasteurized almonds, the U.S. Food and Drug Administration allows them to carry the "raw" label.