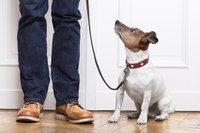 Using food bribes gets your pooch to do whatever you want. But during extensive training, you'll add an excessive amount of calories to his diet with those extra morsels. Use Cheerios as a healthier alternative to traditional jerky or biscuit treats. They're low in calories and high in fiber. Don't go overboard though. Too many Cheerios can fill him up before dinner.
Amount to Give
Cheerios should be a supplement to your buddy's canine kibble. You don't want treats to make up more than 10 percent of his total calories, according to WebMD. Follow the feeding guide on the bag of food for your dog's weight. For instance, if your chum is a big boy and supposed to eat 4 cups of food a day, totaling 1,600 calories, treats should total less than 160 calories. Cheerios contain 100 calories per cup, meaning he could have around 1 1/2 cups.
Feeding Considerations
You'll need to trim a small amount of kibble from each serving of food, if you give your pal Cheerios. You don't want him to go above his total calorie recommendation. In addition, Cheerios are high in beta-glucan fiber, which is good for his digestion. However, this fiber also makes him feel full. If you load him up on Cheerios just because they're low in calories, he might not have room for his actual canine diet. For long training sessions, consider breaking Cheerios in half and only give him a piece for every other trick, so he doesn't get too full.