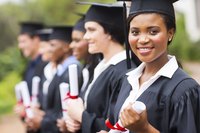 The average salary rate for an Ivy League graduate depends on a few factors. The eight schools in the Ivy League all have different figures for their graduates. Furthermore these figures tend to change based on the career field. Experienced Ivy League graduates can expect to make upwards of $200,000 to 300,000 annually. Although these figures may sound appealing to you, if you are a recent graduate these figures won't initially be as high.
The Schools in the Ivy League
The eight schools that constitute the Ivy League are spread out in the Northeast U.S. They include Dartmouth College, Princeton University, Yale, Harvard, University of Pennsylvania, Cornell, Brown and Columbia. These schools are highly regarded as institutions of academic excellence and the starting career success of their graduates is often attributed to an Ivy education. Ivy League graduates are often viewed as having an easy career road ahead of them. This is not always the case, as these graduates are not generally paid more at the start. They just have a slightly easier time getting jobs.
Starting Salaries
As a fresh graduate of an Ivy League college or university, you can expect to have a starting salary ranging from $56,000 to $66,000. This varies based on your scholastic results and career choice, but can also vary based on the university you are attending. Princeton University tends to be at the top with an average of $66,500 for their recent graduates, while Brown is at the bottom with $56,200. Because these are averages, it is common for a Brown graduate to have a bigger salary than a Princeton graduate and vice versa. Harvard comes in second with an average of $63,400, and the University of Pennsylvania in third with an average salary of $61,000 for its recent undergrads.
Mid-career Salaries
The top salary averages change a bit once you gain experience. Dartmouth, which only had a $58,000 starting average for its graduates, now takes the lead with an average of $134,000 in cash compensation. Princeton graduates fall down to second place, but still maintain a respectable average of around $131,000 a year. Brown is no longer last as it is replaced by Columbia with its average of $107,000 annually.
Experienced Salaries
Yale graduates take the spot for the best-paid experienced positions with a yearly average salary of $326,000. Dartmouth College is the only other university with an average above $300,000, while the rest are spread out between $210,000 and $288,000. The last spot is taken by Cornell University, whose graduates still earn a respectable $210,000 a year in cash compensation. It's safe to assume these figures can vary quite a lot based on a variety of factors including career field, experience and economic conditions.