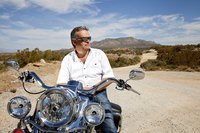 On his fiftieth birthday, a man trades in the mini-van for a two-seat convertible. This is a stereotypical image of a "midlife crisis," that few men actually experience. Quality of life generally improves in middle age, according to a comprehensive study of well-being in adulthood published in the book "How Healthy Are We? A National Study of Well-being at Midlife."
Myths
There are a lot of myths about middle age. One is that a midlife crisis for males is inevitable around age 40. Middle adulthood actually includes two decades after this point, and rather than everything "going downhill," it is likely a new period of stability in finances and relationships with a partner and children. Financial stability and fewer responsibilities after children leave home could be a logical explanation for buying that convertible at age 50.
Transitions
This is not to say that there are no stressors in middle adulthood that can trigger a "crisis." The study of well-being in adulthood found that stressors such as the loss of a parent, a job or primary relationship can cause distress. As with adults at any age, these stressors can cause anxiety and a reassessment of one's life. With effective coping strategies, this period of distress can lead to emotional and spiritual growth.
Red Flags
However, a financially unstable middle-aged man who impulsively buys an expensive car, begins drinking heavily or having extramarital affairs may be exhibiting signs of depression. The symptoms that are typically associated with depression are those most commonly exhibited by women: sadness, a loss of interest in pleasurable activities and sleep disturbances. But depressed men are more likely to engage in risk-taking behaviors, abuse substances, and exhibit aggressive behavior when angry, according to a study published in the October 2013 issue of The Journal of the American Medical Association, Psychiatry.
Getting Help
It's important to distinguish between depression and a period of transition that may occur during midlife. If you or a man that you love is struggling with depression, treatment options should be explored. Medical, psychological and alternative treatments available are explored in the Depression Treatment Help Guide article (see Resources).