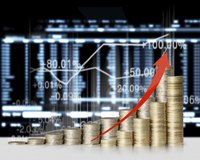 The debt leverage ratio measures a company's total debt -- both short-term debt and long-term debt -- compared to its equity. To figure the ratio, divide the company's total debt by its total equity. For example, for a company with $16 million in equity and $8 million in debt, divide $8 million by $16 million to get a leverage ratio of 0.5.
Why Companies Use Leverage
Companies benefit from leveraging their operations when they can generate a higher rate of return than the cost of the money they are borrowing. For example, if a company can generate a 9 percent return on every $1 of equity, and it only costs the company 5 percent to borrow each additional dollar, the company is making a 4 percent return on the amounts borrowed.
Leverage Ratio Risk Implications
The leverage ratio is one indicator of a company's risk profile. The higher the leverage ratio, the higher the risk because the company already has debts close to its total equity, which makes it harder to get additional loans. For example, say a company has a 0.2 leverage ratio. That means it could pay off all its debts with just 20 percent of its equity. On the flipside, if a company has a 0.8 leverage ratio, that means it has debts equal to 80 percent of its equity -- much less attractive to lenders.