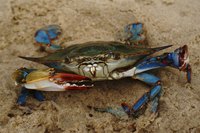 If you're a fan of crab meat, you'll find blue crab is easily caught along the New Jersey shore during the summer months. Crabs find their way to shallow waters during the warm months to feed on summer's bounty and produce the next generation of these delicious crustaceans. Success is easy using little more than a bait line, trap or dip neck and a piece of chicken or fish that's starting to smell. While just about any shallow bay, pier or creek mouth will get you a chance at blue crab, there are a few places along the state's shoreline you won't want to miss.
Best Place to Learn the Ropes
If you've never been crabbing, you won't want to miss a ride on the Skimmer at Cape May National Wildlife Refuge in the southern part of the state. The flat-bottomed 40-footer skims through refuge waters while you get hands-on experience in all phases of crabbing. You'll learn how to bait lines and traps, the most productive areas for crabbing and how to pick up a crab without getting pinched. You'll get to keep any legal crabs you catch. The boat runs from mid-June through August.
Way Up North
Monmouth County has the northernmost shoreline on the New Jersey shore. Use a dip net to capture blue crabs and spider crabs that cling to pier pilings at Keansburg Fishing Pier on Point Comfort. The pier rents scoopers and has bait available on site. Ten miles south, you'll find prime crabbing spots at the mouth of the Navesink River, as well as upstream areas near the confluence with Claypit Creek and Oceanic Bridge. Rent a skiff to find your ideal spot at the Oceanic Marina as well as crab traps and nets.
Crabbing in the Center of Things
You'll find the greatest number of great crabbing spots in Ocean County, which reaches from Point Pleasant down to Great Bay. Island Beach State Park stretches 10 miles just off shore, with quiet coves where you can escape the crowds. Best crabbing is in shallow waters on the southern end of the island on the Bay Side. Berkeley Island County Park is an enjoyable spot to crab with kids. The park's playground and lifeguard-attended swimming beach make enjoyable diversions before or after crabbing.
The Southern Tip
Cape May juts out into the water at the far southern end of the state, separating Delaware Bay from the Atlantic Ocean. In the city of Wildwood Crest along the Atlantic shoreline, Lakeview Docks maintains a fishing and crabbing pier accessible for a daily fee. Bring your own trap or rent one from the dock. You can also rent a fishing boat or kayak and explore the network of streams, lakes and sounds where crabs travel to feed and reproduce. The dock lies just a couple of blocks northwest of the beach on Sunset Lake.