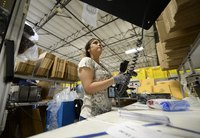 Inventory itself doesn't necessarily impact cash flow, but the amount of sales generated from goods and the way a company manages its inventory do. Cash flow and profit both improve when a company operates with optimal cash flow and merchandising strategies.
Holding Too Much Inventory
When a manufacturer or reseller has a storage room or warehouse piled high with inventory, those products replace piles of cash. When you purchase more inventory than is necessary to keep up with near-term demand, you give up cash that you could use for other operational activities. Many businesses use just-in-time inventory systems to avoid this cash hit. They buy just enough inventory to meet near-term demand, which preserves cash.
The Debt Factor
Closely tied to a company's inventory strategy is its financing strategy to pay for goods. Companies with limited cash on hand often turn to payments on account to buy necessary inventory. On a typical account, a buyer acquires inventory from a supplier, and payment is due within 30 to 60 days. Delays lead to late fees and penalties. Early payments often earn 2 percent cash discounts. The way a company manages its inventory account payments could lead to higher cash outflows or reduced cash outflows.
Merchandising Strategies
Inventory isn't just a cost factor; it is a means for a product-driven business to earn revenue. The more revenue a business generates from its inventory, and the efficiency with which it does so, impacts cash flow. If a company sells a good today, it gets that cash today. If it sells it in one year, it must wait a year for the cash. Effective marketing and merchandising strategies contribute to optimizing revenue. The sooner a company turns inventory, the sooner it gets the cash to pay on accounts. When the company earns a profit, it also has excess cash for ongoing activities.
The Markdown Effect
Inventory markdowns have both positive and negative implications for cash flow. A markdown results when a product's price is reduced with the intent of driving a more immediate sale. Faster sales do generate cash flow more quickly for a company. However, companies sometimes sacrifice more cash in the future to get less cash now. Markdowns often result when businesses buy too much inventory or when demand doesn't meet projections. Some cash is better than none when excess exists. A just-in-time approach helps minimize the need for markdowns.