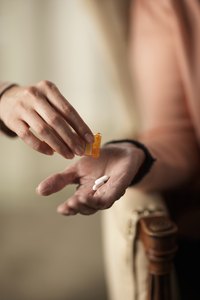 Probiotics, or live, beneficial bacteria, may help treat diarrhea and ease the symptoms of digestive disorders such as irritable bowel syndrome and Crohn's disease, says Harvard Health Publications, though more research is needed. According to the manufacturer, Phillips' Colon Health Probiotic Capsules contain three probiotic strains that can deliver these benefits by establishing and maintaining a healthy bacteria population in the intestines. As a dietary supplement, the capsules haven't been checked by the U.S. Department of Agriculture for purity, effectiveness or safety. Don't attempt to use Phillips' Colon Health to treat any digestive problem until you've consulted your doctor.
Lactobacillus Gasseri KS-13
Lactobacillus gasseri KS-13 is one of the three probiotic strains that make up Phillips' Colon Health's proprietary bacteria blend. This strain was formerly known as Lactobacillus acidophilus KS-13 and is also sometimes referred to as Lactobacillus gasseri PA 16/8. Some studies, including one published in 2013 in the Korean Journal of Family Medicine, found that other variants of Lactobacillus gasseri may aid with weight loss, though there is no evidence that the strain included in Phillips' Colon Health can do so.
Bifidobacterium Bifidum G9-1
Also called Bifidobacterium bifidum MF 20/5, the Bifidobacterium bifidum G9-1 included in Phillips' Colon Health is a bacterial strain that may be able to inhibit the reaction of the immune system to allergens, reported a Biological and Pharmaceutical Bulletin study on mice published in 2005. There isn't any research demonstrating that Bifidobacterium bifidum G9-1 supplementation alone can benefit your digestive system, but in combination with the other probiotics included in Phillips' Colon Health, it may, suggested the results of a FASEB Journal study published in 2014.
Bifidobacterium Longum MM-2
The FASEB Journal study found that supplementing with Lactobacillus gasseri KS-13, Bifdobacterium bifidum G9-1 and Bifidobacterium longum MM-2, the three probiotics in the Phillips' Colon Health capsules, increased the beneficial bacteria population in the digestive tracts of elderly subjects. This increase occurred along with an increase in immune cell production. Bifidobacterium longum MM-2 may also be referred to as Bifidobacterium longum SP 07/3. Supplementation with this strain of bacteria by itself has been shown to enhance the immune system's ability to fight flu virus infection.
Inactive Ingredients
Each capsule of Phillips' Colon Health also contains potato starch, gelatin and silicon dioxide. A common inactive ingredient in pharmaceuticals, potato starch acts as a filler in the capsules and helps them absorb water and dissolve properly in the digestive system. Silicon dioxide, which is derived from the naturally occurring compound silica, keeps the ingredients evenly distributed and prevents clumping, while gelatin constitutes the capsule's outer coating.