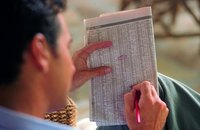 When it comes to investing for the future, you'll want to have a base of financial securities to count on for returns or income. Core stocks are those of companies that have withstood various market and economic conditions and have either remained steady or recovered from losses. Even if you take chances and direct a percentage of your portfolio to riskier investments, core stocks should offset any weakness that you experience in other parts of your investment portfolio.
Large-Cap Stocks
Core stocks are the industry leaders and are among the largest stocks out there. They generally fall into the large-cap stocks category, or stocks with a market capitalization of $8 billion or more. These stocks don't usually produce the fastest and highest returns. Instead, returns are generally slow and steady. Still, professional money managers wait for the stock price to decline before buying, according to a 2012 article on the MSN Money website. The nature of core stocks is that the price will rebound eventually.
Dividend Stocks
Considering that returns among core stocks can come slowly, you may want to add core dividend stocks to your portfolio. A company that has steadily raised its dividend distribution to investors for five to 10 years fits the criteria of a core dividend stock. You don't want any sudden disruptions to your dividend income. Core dividend payers should project profits for the foreseeable future and should have earnings remaining after paying dividends.