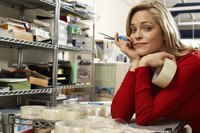 Marginal performers in the workplace neither consistently underperform nor outperform their expectations. Instead, they simply come to work, do only what is necessary and then leave when the workday is through. Most have certain qualities that make them easy to recognize, but difficult to handle. Knowing what to look for is a first step toward dealing with or correcting the problem.
Symptoms and Warning Signs
Common traits of marginal performers include an apparent lack interest in their work or the work environment, and a lack of motivation. In some cases marginal performers might have a poor attendance record or frequent tardiness. More often, however, marginal performers don't do anything to stand out either positively or negatively.
Potential Causes
Marginal performance often links to factors such as a negative attitude, boredom with the work or even personal issues that distract an employee. However, it can also relate to inadequate training, poor communications or an ineffective management style. For example, poor communication from management might cause an employee to focus on completing the wrong tasks, or complete tasks in the wrong order, and therefore miss important deadlines. In addition, unclear performance standards and expectations, a lack of supervision and a lack of positive feedback can lead to marginal performance in the workplace. These issues can be addressed by providing more and better training for the marginal employee, or by interacting with her on a regular basis to ensure she is clear about her duties.