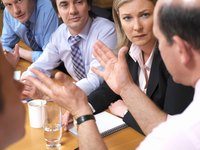 For human resource (HR) professionals, metrics are vital to monitor success, and can serve as an effective way to quantify value. Metrics may comprise both leading and lagging indicators, and the distinction is important. While both have value, leading indicators can be a predictor of ultimate outcomes, which represent lagging indicators. These indicators are used to evaluate the effectiveness of various HR functions such as hiring, performance evaluation, training and turnover.
Hiring
Think of leading indicators as those measures that can help predict future outcomes. For example in hiring, if the ultimate goal is to fill 50 open positions, a leading indicator that might predict success could be the number of applications received. Other leading indicators could include the number of interviews held or number of offers made. Comparing these leading indicators to the lagging indicator of number of positions filled can serve as a predictor of future success. For instance, the HR department may discover through its analysis that 30 interviews a month will result in five ultimate hires. The HR department then knows that if there are 10 positions open, it should plan for at least 60 interviews.
Performance Evaluation
Leading indicators can help HR practitioners and business leaders predict ultimate outcomes. In the area of performance evaluation, a lagging indicator might be the percentage of staff promoted into higher level positions. A leading indicator that might help predict these promotions could be the percentage of staff who receive an overall rating of 5 on a 5-point scale for annual performance evaluation, or the number of staff members who successfully completed a leadership development training program.
Training
For training, the ultimate outcome is the measure of impact on the organization. For instance, customer service training is generally designed to result in an improvement in the level of customer satisfaction. That is an outcome -- or lagging -- measure. Leading indicators that might help predict that increase in customer satisfaction could include such measures as number of employees participating in training, number of employees successfully completing the program or supervisors' evaluation of employees.
Turnover
Turnover is an important indicator for any organization because the cost of recruiting, hiring and training staff can be significant. Turnover is a lagging indicator. Leading indicators that might help predict levels of turnover could include levels of employee satisfaction, evaluation of supervisory effectiveness,length of tenure in a position, or age. By monitoring leading measures, organizations can give themselves a heads-up about outcomes that will be reflected through lagging measures.