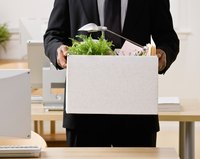 Being terminated from your job can be very stressful. You may feel uncertain about your future and unclear about your rights to programs such as continued health coverage and unemployment insurance benefits. If you are fired from your job, know that you have certain rights. It is important to understand what you are entitled to if your employment is terminated.
Final Paycheck
If you are fired from your job, you are entitled to your final paycheck. Employers are not allowed to withhold your paycheck from you. The laws regarding the amount of time an employer has to give you your last paycheck vary by state. According to the U.S. Department of Labor, employers are not required to give you your paycheck immediately. Generally, if you quit, you must receive your paycheck by the next pay period. If you are fired, the employer typically has 72 hours to give you your final paycheck. If an entire pay period has passed and you still have not received your last check, you are encouraged to contact your state labor department for assistance.
Continuation of Health Coverage
If you get fired, you have the right to continue your health insurance benefits. The Consolidated Omnibus Budget and Reconciliation Act (COBRA) was put in place to help employees maintain health insurance coverage if they experience a life event that disqualifies them from eligibility. Such events include job termination, lay off, death or divorce. Your employer must notify your health insurance administrator of your termination within 30 days. Your benefits plan administrator must then notify you of your rights to continue your health insurance through COBRA. It is important to note that to continue your insurance coverage through COBRA, you may be required to pay a premium of up to 102 percent of the cost of the insurance.
Unemployment Benefits
If you are fired, you have the right to apply for unemployment insurance benefits. Unemployment benefits provide a temporary monetary benefit to employees who lose their job. The reason for employment separation can affect eligibility for unemployment. Usually, people who are laid off are automatically eligible to receive benefits. However, if you are fired, you may need to participate in a phone interview to discuss the circumstances behind your termination. It is up to the unemployment department in your state to make the final decision regarding your eligibility. Usually, if you were fired for poor performance, you may be eligible for benefits. If you were fired for misconduct or willfully violating company policies, you may not be eligible to receive benefits.
Severance Pay
If you had a written or oral agreement with your employer that entitles you to severance pay, your employer must fulfill this obligation. Severance pay is a package that provides benefits, usually monetary, to an employee upon termination. Severance pay is calculated based on the length of your employment. According to fair labor standards, an employer is not required to pay severance pay unless an agreement between the employer and employee is in place or if the employer has a history of offering severance pay to other employees in a similar position.