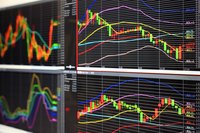 Foreign exchange, or forex, is a worldwide marketplace that facilitates the exchange of one country's currency for another. Currencies in this market are quoted in pairs, representing their relationship to one another. Most of the time, price behavior of a currency pair trades randomly. On occasion, however, the price can trend in a general direction. When pairs trend, their price behavior can be more predictable, offering speculators an opportunity to profit by positioning their purchases in the direction of the trend. Trend indicators are chart tools that help measure when a pair is trending and the strength of the trend.
Market Trends
Price trends in the financial market were first recognized by Charles Dow, the original editor for The Wall Street Journal. Dow developed a theory that is still widely used today by traders and investors in all financial markets, including forex. According to Dow theory, an uptrend is recognized as a series of higher-price highs and higher-price lows. A currency pair, when it is trending, tends to take two steps forward for each step back. In this case, each step forward should reach higher than the previous step. Likewise, each step back should also be higher than the previous step back.
Chart Indicators
Chart indicators are those lines, histograms and diagrams you may have seen on a forex price chart. Indicators are created using mathematical formulas that measure various combinations of forex price and trade volume data. Chart indicators provide analysts with a deeper view of a currency pair's price behavior, much like an electrocardiogram reading provides a doctor with a deeper view of heart activity.
Average Directional Index
The ADX indicator is plotted as a line below the price area of a forex chart on a number graph. The ADX line measures the strength of the price trend. The higher the ADX line is on the graph, the stronger the price trend. A good rule of thumb when using ADX is that if the line is above 30, the trend is strong, indicating that prices will likely continue in the direction of the trend. If the line is below 20, the price is probably not trending.
Directional Movement Index
ADX is not usually used as a standalone indicator. It measures the strength of the trend, but it does not tell you the direction of the trend. The DMI indicator combines the ADX line with two additional lines -- +DI and -DI. When +DI is above -DI, the trend is up, and when -DI is above +DI, the trend is down. In practical terms, a forex trader may decide to buy a currency pair when +DI is above -DI and the ADX line moves above 30, indicating the trend is up and it is strong.