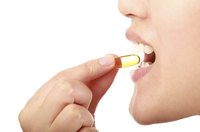 Coenzyme Q10, a fat-soluble antioxidant you need in small amounts for turning the foods you eat into energy, is found in many foods and also made by your body. Some people take CoQ10 supplements in an attempt to help prevent or treat certain health conditions, but the evidence for this is still preliminary, and these supplements aren't safe for everyone. Speak with your doctor before adding this or any supplement to your regimen.
Potential Diabetes Benefits
A study published in "BioFactors" in 2012 found that a reduced form of CoQ10, called ubiquinol, may improve blood sugar control by causing your body to produce more insulin. Another study, published in "Diabetes Care" in February 2009, found that taking CoQ10 improved the blood vessel function of people with diabetes taking statin medications.
Beneficial Effects on Heart Health
People suffering from chronic heart failure who took CoQ10 had lower rates of hospitalization and death than those who took a placebo in a study published in "Heart" in 2013. This could be due at least in part to the antioxidant function of CoQ10. Another study found that CoQ10 supplements help increase the antioxidant levels in patients with heart disease and limit cell damage due to oxidative stress.
Possible Decreases in Migraine Frequency
There is some evidence that people with migraines may benefit from taking CoQ10. A study published in "Neurology" in February 2005 found that by the third month of taking this supplement, study participants experienced a decrease in the frequency of migraines and migraines combined with nausea compared to taking a placebo.
Side Effects and Other Considerations
CoQ10 can have side effects, including heartburn, nausea, lack of appetite, diarrhea and abdominal discomfort, especially if you take it in doses of more than 100 milligrams at a time. It may also interact with medications, such as statins, blood thinners, chemotherapy medications and blood pressure medications. Don't use CoQ10 within two weeks of surgery or if you are pregnant or breast-feeding, as it may not be safe.