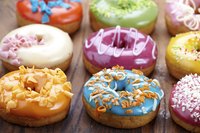 Your body relies on getting the right amount of the proper nutrients to function at its best, and junk food contains too much of the bad stuff and not enough of the good stuff. Whether it's sweets, chips, pizza, or cheese burgers, junk food is typically high in sugar, saturated fat and sodium, which has a cumulative negative effect on your health.
Causes Weight Gain
Each day your body needs energy in the form of calories to function. When you consume more calories than your body needs, the calories are stored for later use. Because junk food is often loaded with calories, regularly eating it without compensating provides you with much more calories than needed, leading to weight gain. When researchers at the University of Minnesota conducted a 15-year study, they found a positive link between eating fast food and putting on weight. The results were published in the January 2005 issue of the journal Lancet.
Raises Blood Pressure
Junk food is typically high in sodium, a nutrient your body requires only a small amount of to stay healthy. Sodium regulates fluid volume, but when you eat too much of it, blood pressure can rise and contribute to hypertension -- higher than normal blood pressure. Over time, high blood pressure weakens blood vessels, causes them to thicken and increases the risk of blood clots, which ultimate raises your risk for heart attack and stroke.
It appears sodium isn't the only culprit, according to a study published in the November 2014 edition of the Journal of Pediatrics. Researchers conducted a study of 14,000 Iranian students and found a link between consuming sweets and sugary beverages and high blood pressure.
Increases Risk of Insulin Resistance
In the body, carbohydrates and sugars are converted to blood glucose, which is a vital source of energy. To keep your blood sugar steady, your pancreas releases the hormone insulin. When high-sugar junk food spikes your blood sugar, your pancreas works hard to get sugar into your cells. This cycle may eventually damage your body's ability to handle blood sugar. The University of Minnesota study found a link between regularly eating fast food and developing insulin resistance, a condition that increases the risk of Type 2 diabetes. Genetics and lifestyle factors like being overweight and not exercising also increase your risk.
High Cholesterol and Depression
Junk food can cause other problems. The high fat content can raise your cholesterol levels. Saturated fat increases a bad form of cholesterol called low-density lipoprotein. Over time, having too much cholesterol in your blood increases your risk for heart disease. In animal models, even short periods of eating high-fat or sugar-laden junk foods impairs brain function, according to a study in the Brain Behavior and Immunity journal published in March 2014.
Junk food may even affect your mood, according to a separate study published in the March 2012 issue of the journal Public Health Nutrition. Researchers found that eating foods like muffins, donuts, hamburgers and pizza puts you at risk for depression.