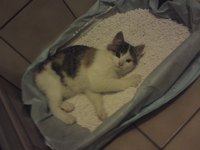 Kitty litter is a basic necessity for cats who spend any time indoors. Cat litter poses relatively few hazards for pets as long as they're not eating it, and few for you unless you're pregnant.
Litter Box Maintenence
Scoop your cat's litter box out once a day, removing all piles of poop as well as any urine that has formed a clump of litter. Completely clean out the litter box no less than once a week. A thorough litter box cleaning includes doing the following:
Dump all the old litter out into the trash can.
Scrape any remaining poop, litter or other crud off the sides and floor of the box.
Wash the litter box thoroughly with an unscented or lightly scented disinfectant soap.
Dry the litter box completely.
Fill the litter box with 2 to 3 inches of clean litter.
Wear rubber cleaning gloves and a face mask when you are working with litter. Your cat's feces can contain parasites and bacteria that spread disease.
Illnesses Associated With Cat Feces
Cat feces can contain an assortment of parasites, including various worms such as roundworms and tapeworms. Toxoplasmosis is a dangerous parasite-borne illness associated specifically with cat feces. Pregnant women and people with weakened immune systems should avoid handling cat feces at all.
Is Kitty Litter Safe to Use?
Kitty litter has been in use since shortly after World War II. Traditional litter is made from granulated clay and is generally pretty safe to use. There has been some debate, however, about the safety of some of the ingredients used in clumping cat litters. Clumping litters may contain silica or sodium bentonite. Sodium bentonite, also known as bentonite clay, is described by the American Society for the Prevention of Cruelty to animals as "a naturally occurring clay mineral that is considered to be biologically inert when ingested." Silica is highly absorbent and also classified as biologically inert. The ASPCA does not consider either bentonite clay or silica to be toxic if consumed by your cat, though these ingredients may cause mild gastrointestinal upset.
With that said, problems can develop if you cat eats significant amounts of litter. A cat who is eating litter needs a veterinarian's evaluation for possible health problems, including dietary deficiencies.
Alternative Kitty Litter Choices
If a cat eats clumping litter, try traditional clay litter. You can also use litters made of wheat, newspaper, wood-based products, corn and other more environmentally friendly substances. Some alternative litters may not be as effective at absorption as traditional litters, or they may fail to cover the smell of your cat's urine and feces as well as traditional litter materials. Discuss alternative litters with your veterinarian before you make changes.