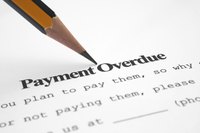 Defaulting on your student loan doesn't happen overnight. Federal student loans take nine months or more of missed payments to reach that status, while private loans depend on the terms of the individual loan agreements. In either case, the consequences are very serious. Not only will your credit rating take a nose dive, you won't be able to get additional financial aid, your wages can be garnished and your tax refunds may be seized.
Missed Payments Bring Default
Defaulting on your student loan means you did not make payments as required by your promissory note, the legal document you signed when your student loan was approved. You are considered past due, or delinquent, the moment you are one day behind on your payment. This delinquency continues until you catch up and bring your loan current. For federal student loans that require a monthly payment, your loan is in default once you've failed to make a payment for 270 days. If your payments are due less often, your loan is in default once you haven't made a payment for 330 days. For private student loans, what constitutes default is outlined in the promissory note and may be different from the federal standard.
Negative Credit Report Entries
Typically, your student loan company will start reporting you as past due to the national credit bureaus once you are at least 90 days past due. As a result, your credit rating will take a hit, making it more difficult for you to obtain credit or be approved for an apartment lease or mortgage loan. If you default on your loan, this is reported as well and will drop your credit rating by an even larger amount. Even if you repay the loan, the default typically stays on your credit report for seven years. In the case of a federal Perkins Loan, the default will stay on your record until the loan is paid in full.
Access to Financial Aid Denied
In addition to the hit your credit takes, you will no longer qualify for federal student aid once your loan is in default. Your loan, along with any interest, immediately becomes due in full. You also will be ineligible for a deferment or forbearance, which can take your loan out of repayment status for a period of time due to circumstances such as financial hardship or enrolling in school.
Additional Penalties
Your student loan generally will be referred to collections once it's in default, adding collection costs to your overall debt. The lender, or collection agencies brought on by the lender, can sue you to force you to pay. This may make you responsible for court costs and attorney fees. A court judgment also makes it possible for the lender to put a lien on property you own, such as a car or home, and garnish your wages. In addition, your tax refunds can be seized and a portion of your Social Security benefits withheld. However, you can't be arrested for nonpayment, only pursued civilly for the debt.
Ways to Correct the Default
There are a few ways you can get your student loan out of default. The first is to pay your student loan in full. Another option is to refinance your defaulted loans into one new loan through consolidation. Depending on your lender's rules, you may be required to consolidate your loans with other student loans that are not delinquent to qualify. With regard to federal loans, a third option also exists known as rehabilitation. Your lender must approve you for this program. Your default status is removed after you make nine on-time payments over 10 months. Some lenders also offer a forbearance option, which puts your loan payments on temporary hold for a pre-determined amount of months, although interest stil accrues during this hold period.