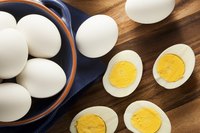 While both egg whites and egg yolks contain protein, they offer different health benefits and nutritional value.
For Fewer Calories: White
Most of the calories in an egg come from the yolk. An egg white from a large egg contains 17 calories, while the yolk from a large egg contains 55.
Americans have a tendency to eat more calories than they need, which is why weight is such an issue, according to the Dietary Guidelines for Americans, 2010. Eating just the white of an egg can help you save a few calories, which may aid in reducing your overall calorie intake for better weight management.
Fat in the Yolk
The primary reason the yolk of the egg is so much higher in calories than the white is because the yolk also contains all of the fat. One yolk from a large egg has 4.5 grams of total fat, 1.6 grams of saturated fat and 184 milligrams of cholesterol, while the white is fat-free.
The cholesterol in the egg yolk is no longer a nutrient of concern, according to a 2015 report in the Washington Post. However, you still need to be careful with the amount of saturated fat in your diet, limiting intake to 5 percent to 6 percent of total calories as recommended by the American Heart Association. High intake of saturated fat raises bad cholesterol, or LDL cholesterol, levels.
Comparing Vitamins
The yolks are also where you'll find most of the vitamins. Egg yolks contain vitamins A, E, B-12, B-6, thiamine, pantothenic acid and folate. Egg whites contain only pantothenic acid.
While the yolks contain a large number of vitamins, they're only found in small amounts, meeting less than 10 percent of the daily value for all the vitamins in one yolk from a large egg. The white of the egg also contains only a very small amount of pantothenic acid.
Mineral Distribution
Both the white and yolk of the egg contain a variety of minerals, but not the same ones. The white of the egg is where you'll find magnesium, sodium and potassium, while the yolk is a source of calcium, iron, potassium, phosphorus, zinc and copper. You'll find less than 10 percent of the daily value for all the mineralss in both the white and yolk.
However, both the white and yolk of the egg are a good source of selenium, with the white of the egg meeting 9 percent of the daily value in a large egg and the yolk meeting 14 percent. You only need a small amount of selenium a day, but it helps make certain proteins and acts as an antioxidant.