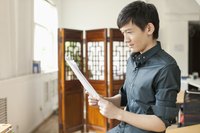 The volume of media that reaches a person each day makes attention grabbers an important tool in a business' arsenal for delivering marketing messages. Add to this the short attention spans most people have for marketing messages, and finding ways to stand out from the crowd is critical to making sales or strengthening your brand. Success lies in getting the prospect's attention, then making them want to take a more careful look at your business.
Headlines
Dramatic headlines that ask a question or pose a challenge related to the reader's problem are highly effective. For instance, if you sell family cell phone plans, the question might be as simple but effective as, "Need More Minutes?" Another option is to use announcement-style headlines in a large font size. For example, if you're holding a sale, use a 16-point or larger font to say, "Annual Sale Starts Friday!" to draw attention to your ad. Open a letter or promotional offer with a headline such as, "Take 25% Off Your Order Right Now" to show the reader a clear benefit.
Packaging and Graphics
Unique packaging to deliver your marketing message makes the information more interesting and more likely to be opened. For instance, an advertising agency could send prospective businesses a uniquely shaped box in which a small puzzle is nestled along with a message that says the agency has the answer to the prospect's advertising dilemma. Catchy graphics also make readers stop and look. For instance, before-and-after photos that show what your product or service is capable of achieving work for a variety of industries, including weight loss, interior design and home organization.
Presentations
Using thought-provoking questions or mind-boggling facts helps your audience jump into the topic of the presentation. For instance, if your presentation is about using advertising to stand out from the competition, share a fact about how many thousands of media images a consumer sees each day. To make the fact more realistic, show a graphic, such as a jar of beans or a collage of images, that indicates how many those thousands really represent. Pull your audience back into the session after lunch or breaks by asking participants to introduce themselves in a strange way, such as asking them to tell the group what kind of weather system they most resemble and why.
Personal Sales Efforts
If you're an interesting storyteller, sharing an anecdote or story about the problem one of your customers experienced and explaining how your product helped it find a successful solution can get your audience's attention. If your product does something amazing, demonstrate its capabilities to draw in prospects. For instance, if you sell siding, bring in samples that show your product and how it hasn't weathered as much over time as a competing product sample.