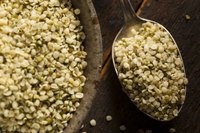 Seeds are a rich source of healthy fats, fiber, protein, vitamins and minerals and a nutritious part of your diet. But seeds can be costly, and you may wonder whether it's necessary to spend the extra money on organically grown varieties. Regular seeds and organic seeds offer the same nutrition; the only difference is that organic seeds are free from the pesticides used to grow conventional seeds.
Pesticides in Seeds
When you buy certified organic seeds, you can be sure the seeds have not been grown using pesticides. However, different conventional foods have different levels of pesticides, and some may be so low as to pose very little risk. For example, flaxseeds and hemp seeds need very little pesticide to grow, and so conventional varieties may be very low in residue. However, how much pesticide your conventional seeds contain ultimately depends on where and how they were grown. The levels of pesticides aren't measured, nor are they listed on the label.
To Buy Organic or Not
If you can afford organic foods, then buy organic seeds and rest easy in the knowledge that your purchase is funding organic farming, which is ultimately better for the health of the earth. If you can't afford organic, go ahead and buy the conventional variety. Unlike many fruits and vegetables, seeds are not the main culprits when it comes to pesticide residues. As long as you eat them in moderation, they should not pose a risk.