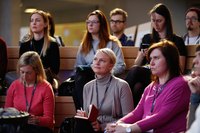 Effective leaders analyze problems, set strategic direction and help subordinates overcome obstacles to achieve company goals. Learning how to delegate tasks involves practicing how to ensure that employees have the right skills and knowledge to perform tasks and then match those employees to assignments. By delegating tactical work to capable subordinates, leaders free up their own time to focus on strategic activities. Leadership development workshops typically provide group activities to discuss case studies and practice skills.
Learning Objectives
Interactive group activities allow leadership development workshop participants to advance their skills in delegating. Upon completion, participants have the ability to select the right employee for a task, support the employee and monitor progress effectively. Leaders reduce their own stress and workload by assigning work to capable employees. Allowing employees to take on new responsibilities also contributes to their own learning and development.
Assessing Current Skills
Leadership development workshops typically include group discussions on the benefits of delegating. For example, managers describe why assigning work to others helps get work done efficiently instead of doing the work themselves to avoid bothering subordinates with boring, repetitive tasks. Using questionnaires, such as the Mind Tools online survey regarding assessing how well managers delegate, participants answer questions, calculate a score and compare results. Participants discuss how to delegate responsibility effectively by defining a situation clearly and motivating subordinates to move quickly to get the work done.
Practicing with Scenarios
Because delegating can occur by task, project or function, leadership development training participants need to learn how to recognize situations when it is useful to delegate authority to a capable employee. Workshop participants describe their personal experiences, both good and bad, with assigning tasks to subordinates. For example, a facilitator divides the group into pairs. One person describes a scenario, such as preparing a report, scheduling a meeting or conducting research. The other person lists suggested steps required to delegate the work effectively, eliminate confusion and encourage innovation. After 15 minutes, the pairs discuss the output and then switch roles and repeat the exercise.
Preparing Checklists
Managers typically should not delegate planning tasks, employee performance evaluations or complex customer meetings. With facilitator guidance, leadership development workshop participants develop checklists to analyze work, determine the skills required to perform the work and match employees to the task. Participants use this checklist on the job to manage work effectively and ensure they are delegating the right types of tasks. Participants discuss the kinds of problem-solving, technical and interpersonal skills required to perform typical tasks. The checklist should help users define tasks, projects or functions and the scope of responsibility. The success criteria and time line for completion should also be listed, as well as a list of support resources.