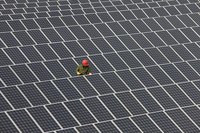 With oil prices rising and the future of energy uncertain, some investors are developing an interest in mutual funds that specialize in solar energy. Many of the mutual funds that invest in solar energy companies also hold securities in other forms of alternative energy, such as wind, biomass or geothermal technology. The best way for investors to position themselves for the future is to keep tabs on all of the emerging energy markets and carefully evaluate their potential for growth.
Guggenheim Solar ETF
The Guggenheim Solar ETF is an alternative energy mutual fund with a portfolio composed of exclusively solar energy stocks. This mutual fund is exchange-traded fund, so investors can buy into it as they would a normal stock on the New York Stock Exchange. The fund is designed to emulate the performance of the MAC Global Solar Energy Index, which lists several major solar energy stocks.
Guinness-Atkinson Alternative Energy Fund
The Guinness-Atkinson Alternative Energy Fund is a more comprehensive mutual fund that purchases holdings in several different alternative energy technologies. To qualify for the fund, a company must be listed on a standard investment exchange like the NYSE or the Nasdaq and do at least 50 percent of its business in the alternative energy sector.
New Alternatives Fund
The New Alternatives Fund is another comprehensive mutual fund that specializes in alternative energy. This fund's strategy is based in social responsibility, meaning that the fund evaluates companies for their employment practices and environmental impact as well as their economic growth potential. The fund's investments are committed to companies that "provide a contribution to a clean and sustainable environment," according to its strategy statements. The alternative energy technologies targeted by fund managers include solar energy, wind, hydroelectric, geothermal and biomass.
Brown Advisory Sustainable Growth Fund
The Brown Advisory Company offers a growth equity mutual fund that specializes in firms that employ business practices and strategies that are environmentally sustainable as key elements of their growth. This fund differs from the Guggenheim Solar and Guinness-Atkinson portfolios in that it does not exclusively invest in alternative energy, though it does target enterprises that are considered to be environmentally-oriented or sustainable.