The American Bulldog and the American Pit Bull Terrier, or Pit Bull, are often confused for the same breed. Both are classified as working dogs that possess a similar physical look, but their size, temperament, history, and date of breed recognition clearly mark them as different breeds. Because some housing districts do not allow residents to own Pit Bulls, it is important to clearly identify the dog.
Size
The standard American Bulldog is a bulkier dog than the Pit Bull. Males can weigh up to 125 lbs. and stand up to 27 inches at the shoulder. The Pit Bull is smaller because of its terrier blood, weighing up to 60 lbs. and standing 22 inches at the shoulder. Pit Bulls are lean with a longer skull, while American Bulldogs are more muscular with a shorter snout.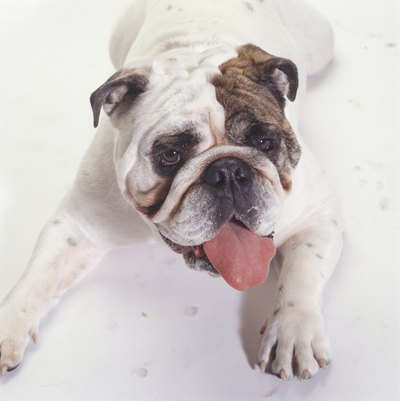 Temperament
Pit Bulls have a poor reputation, but both breeds are gentle around people when raised properly. According to Bulldogbreeds.com, the American Bulldog has a reliable temperament and a tireless work ethic. While Pit Bulls can be aggressive with other dogs, careful breeding has resulted in a courageous family-oriented dog. The American Bulldog is generally even-tempered with all pets. Both dogs can be trained from a young age to be reliable, loyal companions, and both benefit from leadership from their owners.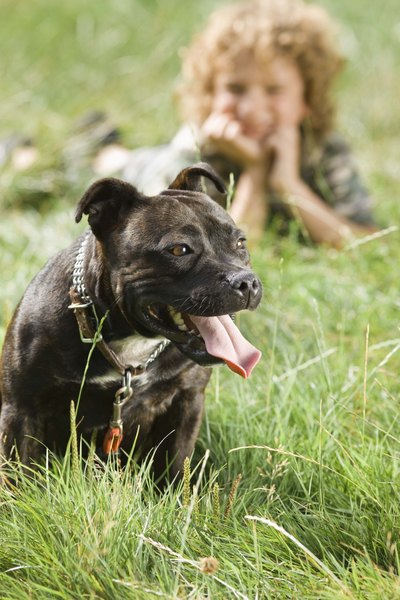 History
The American Bulldog is closely related to the dogs that were used for bull baiting in England. Immigrants brought the dogs to America and retained their athletic build, using them to help with Southern farm labor. The Pit Bull was brought to the United States in the mid-19th century by Irish immigrants. Unlike the American Bulldog, a breed now disassociated from aggression, the Pit Bull moved from bull baiting to dog fighting and was originally recognized as a breed because of the sport.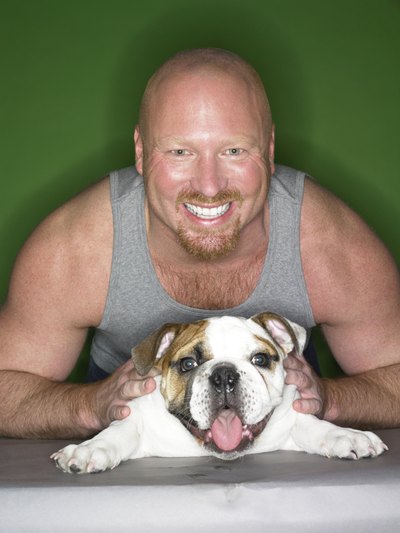 Breed Recognition
The American Bulldog became nearly extinct until the breed was revived and finally recognized by the United Kennel Club in 1999. At present, the breed is only registered by the UKC and the United Canine Association and is classified as rare. The Pit Bull has suffered a more tenuous history, originally recognized by the UKC in 1898. Because it was specifically classified as a fighting dog, breeders had to push for the breed to be distinguished by the American Kennel Club. It was finally registered in 1936 under the Staffordshire Terrier name, only to be removed from the registry later in the century. Now the breed is officially recognized as the American Pit Bull Terrier by the American Dog Breeders Association, the Continental Kennel Club, the American Pit Bull Registry, the UCA and the UKC.