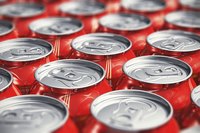 Drinking sugar-sweetened beverages, such as soft drinks, is associated with weight gain, according to a review article published in the "American Journal of Clinical Nutrition" in August 2006. The American Heart Association recommends limiting added sugars to no more than 25 grams per day for women and 38 grams per day for men. Knowing how much sugar is in different soft drinks can help you better stay within these recommendations.
Sugar Content Comparisons
A 12-ounce can of cream soda has more sugar than most sodas, with more than 49 grams. Orange soda can contain as much as 44 grams of sugar per 12-ounce can, and colas often have 34 to 41 grams of sugar per serving, depending on the brand. Root beer can have more than 39 grams of sugar. Lemon-lime soda has between 37 and 44 grams of sugar, while ginger ale is a bit lower in sugar with approximately 31 grams per serving.