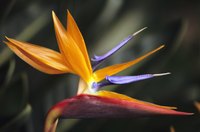 Arizona spans a wide range of climates, with U.S. Department of Agriculture plant hardiness zones ranging from 4b in mountains of northern and western areas to 10b. Backyard swimming pools enhance quality of life, especially in the southern and western parts of the state, where desert climates with hot, dry summers prevail. Combine both hardscaping features, which are the non-plant elements, such as paving, walls and planters, with landscaping plants that help soften and brighten the pool area.
Adding Hardscape Surfaces
Pool maintenance is a big job, so adding hardscaping that covers the bare ground around the pool helps keep dust and debris from getting in the pool and gives a safe, non-slippery surface to surround the pool. Pool decking options include brick, concrete, flagstone and tile. Concrete comes in a variety of forms and can be tinted or stamped to mimic stone or pavers. Exposed aggregate combines stones and concrete. To define poolside activity areas, use different types of decking in each area.
Adding Hardscape Activity Centers
Hardscape features add to poolside recreational activities and help integrate the pool with family outdoor living. Add walls that have seating areas or that have countertops. Install a fire pit nearby for winter or cool evening gatherings. Poolside meals are easier with a nearby built-in barbecue or outdoor kitchen. In areas with intense summer sun, consider adding a shaded or roofed area.
Selecting Poolside Plants
When selecting plants to put near a pool, avoid deciduous trees and shrubs that shed their leaves each year, as these leaves will make their way into the pool. Also undesirable are plants that produce seed pods, abundant falling flowers or messy fruits. If plants have large root systems, these are also not suitable, as roots can disrupt pool walls and decking. It's also better to avoid spiny cactuses and succulents as these can be a hazard near a pool.
Plants for Planters
Bring plants closer to eye level by adding raised planters to the area. Use trailing plants along the edges such as low-growing lantana (Lantana camara) varieties. Flowering from spring through fall, the flowers aren't messy and attract butterflies. Choose sterile cultivars to avoid fruit production, such as the yellow-flowered "New Gold" or pink and yellow "Mozelle." Both grow in USDA zones 10 through 11, usually killed back but surviving in USDA zone 9 winters. They can grow as annuals elsewhere. For planter centers or for background plantings, use upright plants, such as rosemary "Tuscan Blue" (Rosmarinus officinalis "Tuscan Blue"). The evergreen shrub has narrow, aromatic leaves and blue flowers along branches in spring and summer. Growing in USDA zones 8 through 11, rosemary does double duty to flavor meats and vegetables when grilling.
Foliage Plants
For planters or flower beds, bold foliage plants add drama and a tropical feel to pool landscaping. Evergreen bird of paradise (Strelitzia reginae), which grows in USDA zones 9 through 11, has clumps of stiff, dark green leaves rising to 3 to 5 feet tall. In fall and winter, striking orange and purple flowers add long-lasting color. Mess-free, slow-growing sago palm (Cycas revoluta) has rosettes of dark green fronds. It eventually form a 3- to 10-feet-tall trunk. Grow sago palm, which is a cycad rather than a palm, in partial shade in USDA zones 8b through 11.
Container Plants
Lend flexibility to pool landscaping with plants in containers that can be moved about for variety or inside for protection in cold winter areas. Smaller-growing palms such as Mediterranean fan palm (Chamaerops humilis) do well in large containers in sun or partial shade in USDA zones 8 through 11. It's also suitable in garden beds. For an interesting, fine texture, consider evergreen foxtail fern (Asparagus densifloris "Myeri"), which grows USDA zones 9 through 11. Arching branches with light green, needlelike leaves have a plumy appearance. Small white flowers in spring produce round, red fall and winter berries that aren't messy.
Cold Weather Plants
For plants around pools in cold winter areas of Arizona that must survive snow and periods of below-freezing weather, look to evergreen plants suitable for small places or containers. An example is dwarf golden arborvitae (Thuja orientalis "Aurea Nana"), a slow-growing, broadly pyramidal shrub that reaches 4 to 6 feet tall and 3 to 5 feet wide in USDA zones 6 through 9. Its golden yellow foliage gives year-round color. For trailing growth in pots or planters, consider creeping sedum, with many varieties available. For example, blue spruce stonecrop (Sedum reflexum "Blue Spruce"), which grows in USDA zones 3 through 11, grows 6 to 8 inches tall and 15 to 18 inches wide.