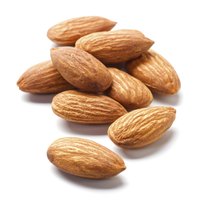 It's hard to imagine that a calorie-dense food like nuts can help you lose weight. But nuts are rich in nutrients that help you feel full and more satisfied so you eat less. If you're trying to lose weight, snacking on a handful of almonds, pistachios or hazelnuts can help you reach your goal.
Satiating Nuts
Nuts are rich in protein and fiber, both of which have a satiating effect: You feel full longer. Protein appears to have the greatest effect on hunger control, followed by fiber, according to the European Food Information Council. In addition, certain plant cells in nuts are difficult to digest, so your body may not completely absorb some of the nuts' fat and calories, says a study by Richard D. Mattes et al cited in 2008 by the Journal of Nutrition.
Almonds for Weight Loss
When it comes to hunger management, almonds have it all: They're rich in both protein and fiber. A 1-ounce serving of the nut contains 162 calories, 3.5 grams of fiber and 6 grams of protein. They've also proved to be an effective tool in helping people lose weight. A 2014 clinical study by Zohreh Abazarfard et al, published in the Journal of Research in Medical Sciences, found that supplementing a low-calorie weight-loss diet with almost 1 ounce of almonds twice a day led to greater weight loss than eating the same number of calories without the almonds.
Crack Open the Pistachios
Pistachio nuts are also rich in protein and fiber, with 157 calories, 3 grams of fiber and 6 grams of protein per ounce. You also get to eat a large number of nuts -- 49 to be exact -- in that 1-ounce serving, which may help you feel like you're eating a larger portion. Additionally, to help slow you down when noshing on the protein- and fiber-rich nut, shell them yourself.
Have Some Hazelnuts
Hazelnuts, also called filberts, are a little higher in calories than almonds and pistachios but are still a good source of protein and fiber. A 1-ounce serving contains 176 calories, 3 grams of fiber and 4 grams of protein. If you're trying to lose weight with nuts, keep your eye on the calories and portion out the amount you plan to eat before you dig in. The 2010 Dietary Guidelines for Americans also suggest you eat nuts, like hazelnuts, in place of other sources of protein such as red meat or chicken to help you manage calorie intake.