People leave jobs for all kinds of reasons. However, some reasons are more valid than others, which is why an interviewer may delve into your motives for seeking a different job. Like most interview situations, what you say matters less than how you say it. In framing your answer, tactfully outline the reasons for your decision, but keep the focus where it belongs -- on how your hiring will benefit the company.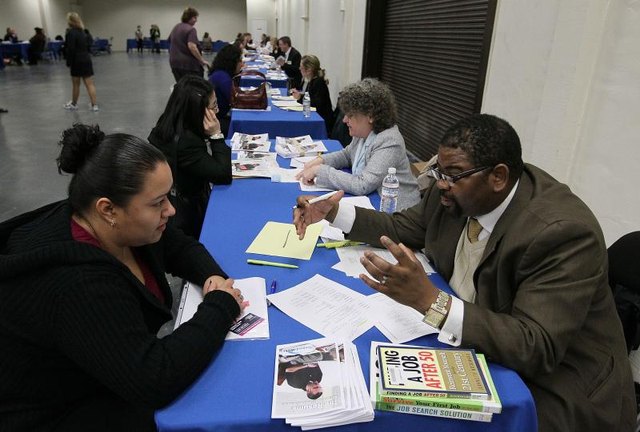 (Justin Sullivan/Getty Images News/Getty Images)
Self-improvement is a common reason for leaving a job -- and a positive one, too, unless you choose your words poorly, asserts "U.S. News & World Report" career columnist Chrissy Scivicque. When the interviewer asks, "Why do you want to leave?", don't imply that a change of pace is your only motive. Say you've done everything to work things out with your current employer -- whether it's taking on more responsibility, or trying to solve a problem -- but that it's time to pursue your career development goals elsewhere.
Job duties continually change over time. However, if a revamped assignment is prompting you to look elsewhere, you can't acknowledge any negative feelings in explaining your departure, according to the Social Work Career Center. Instead, say something like, "Employer X's new financial reporting procedures have also reduced my opportunities to grow personally and professionally. As a result, I'm looking for those opportunities outside of the company." This type of response positions you as adaptable and willing to deal with a changing work environment.
If you're leaving over a difficult situation -- such as qualms about your employer's business practices -- additional discretion is necessary. The golden interview rule is to avoid trashing past employers. However, you also don't want to seem like a whistleblower, as the hiring manager doesn't have knowledge of your concerns, notes a 2011 "Fortune" magazine article. Simply state you had philosophical differences about the company's operations, so it seemed best to move on.
Conflicts are natural at any workplace. However, persistent differences of opinion may leave you yearning for a role that allows you to take on more responsibility. Although coworker and supervisor relations are the major reasons that workers cite for leaving jobs, don't get drawn into a specific discussion of those situations, Scivicque suggests. If a hiring manager asks what you disliked about your last job, put the emphasis on things -- like outdated technology or inefficient processes -- and explain how you sought to improve the situation.
Keep responses positive and to the point. If you're leaving on good terms and want to explore new challenges, don't elaborate; an interviewer will ask additional questions if he wants to explore an issue, notes The Muse career website. The longer you talk, the more you risk venturing into troublesome areas.
Promoted By Zergnet