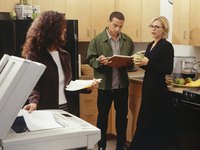 Alabama doesn't require employers to offer work breaks, but employers are required to follow Federal labor laws. In most cases, employers don't have to offer work breaks if they don't choose to, but they do have to treat breaks as paid time. In the absence of a state law, the Alabama Department of Labor directs employers to the Wages and Hours Division of the United States Department of Labor for guidelines on Federal labor laws.
Child Labor
The Alabama Department of Labor does have a Child Labor Division, which enforces Alabama Code 25-8-38. State employers must offer a 30 minute break every five hours for employees aged 14 or 15. Shorter breaks count as part of the work day, so the employer cannot use them to break up the five hours. For instance, if a 14-year-old employee works 180 minutes, takes a 10 minute break and then works for another 180 minutes without an additional 30 minute break, the employer is in violation of the law
Breaking down Breaks
The Fair Labor Standards Act doesn't demand employers offer short breaks under most circumstances according to the U.S. Department of Labor. However, employers can't allow unpaid breaks. The Department of Labor describes a short break as lasting between five and 20 minutes. If employees are allowed to take that time, the employer must pay for the time. On the other hand, employers don't have to pay employees for true meal breaks of at least 30 minutes. The employee must be paid for the time if she's asked to work six or more hours in a day without such a break..
Nursing Mothers
Under the Affordable Care Act, employers have to give rest breaks for nursing mothers until the child is 1. The employer also has to give the mother a private area other than a restroom. The employer cannot set limits on how many times the employee can take a break for this purpose, or on how long the break can be, but the employer is not required to pay for the time. The law applies to any business covered under the Fair Labor Standards Act,. Businesses with fewer than 50 employees can ask for an exception, but have to show how following the law will disrupt their business.
Vacation Time
Alabama employers are not legally required to offer vacation time unless it's part of an employee contract. For instance, if vacation time is part of a collective bargaining agreement, the employer has to honor the agreement. The employer has to honor vacation time if it's a matter of policy. The employer can maintain a policy in which employees lose unused vacation time when their employment ends, or turn down some requests. For example, if the employee hasn't met certain conditions, such as giving agreed-upon notice to be paid for unused time, the employer does not have to honor the request.