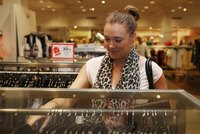 A clearance sale is a special event or promotion held by a retail business to sell excess goods at deeply discounted prices. Some consumers view clearance sales as an opportunity to stock up on low-cost products, and others believe clearance sales are a way for a retail store to get rid of merchandise customers will not pay regular price for.
Sell Excess Inventory
By definition, a clearance sale is intended to "clear out" excess inventory of products. Sometimes, companies order too much of a given product, expecting higher demand than they get. In some industries, retailers may have the option of returning unsold products to the distributor or manufacturer for a refund or purchase credit. But in many cases, if a retailer has excess product that it cannot sell at regular price, it holds a clearance sale to close out the extra merchandise.
Make Room for New Merchandise
Another common reason for a clearance sale is to make room for new merchandise. This is especially true in seasonally-driven industries, such as fashion and apparel. Clothing lines are constantly updated to accommodate new fashions and trends, and consumers generally demand the latest fashion and apparel. Thus, when a clothing retailer is preparing for incoming product lines, it often must hold a clearance sale to make space for the new arrivals.
Sell Expiring Products
Some products have expiration dates or are perishable, and clearance sales are held to collect whatever revenue is possible before the product is thrown out. Fresh produce and other food products are examples of perishable foods that are either sold by a certain point or are disposed of. Retailers might have a clearance sale before they perish. Other items, such as over-the-counter medicines, have expiration dates. Companies periodically have clearance sales to sell these items at discounted prices before they are expired and no longer are marketable.
Liquidation Sale
An extreme example of a clearance sale is what is known as a liquidation sale. For casual consumers, a liquidation sale means a retailer is going out of business and clearing out all inventory. However, many retailers use liquidation sales as a a common promotional event to create quick turnover of inventory. For instance, a mattress store might get access to a truckload of discounted mattress inventory and hold a liquidation event to indicate it wants to quickly get rid of that inventory. To customers, this implies a good deal. To the retailer, they want to quickly turn a profit on their lower-cost inventory to invest it in new inventory.