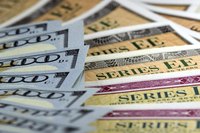 Savings bonds sold by the U.S. Treasury mature 30 years after you buy them. Both Series EE and Series I bonds are non-transferable, meaning you can't sell them like you can other Treasury bonds. You can cash in savings bonds with the Treasury Department after just a year. However, early redemption can cost you money, so consider your options before you act.
Consequences of Early Redemption
Although you may cash in savings bonds after 12 months, you forfeit three months interest when the redemption occurs within the first five years following the purchase date. After that, there's no penalty. However, EE bonds issued starting in May 2005 come with a guarantee that the bonds will double in value after 20 years. If the bond's fixed interest rate isn't high enough to accomplish this, the Treasury Department bumps the value up to twice the original purchase price at the 20 year mark. If you cash an EE bond too soon, you lose this bonus opportunity.
Interest on savings bonds is subject to federal income tax, though not state or local taxes. You can defer paying tax until you redeem the bonds. If you elect to defer the tax, it becomes payable the year you cash in. However, when you use savings bond interest to pay higher education costs for yourself or a family member, you can write off the amount on your tax return.