One of the most important factors to take into consideration while choosing a haircut is the shape of your face. To figure out your face shape, pull your hair back into a tight ponytail and trace the outline of your face on a mirror with lipstick. A strong jawline and straight hairline indicate a square-shaped face -- a hairstyle that includes soft edges and face-framing pieces will best illuminate your features.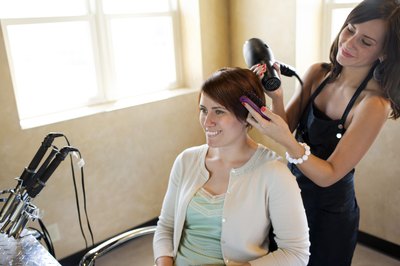 Messy Shag
A messy shag haircut just below the chin will soften the outline of your square-shaped face. A side part and razored, wispy edges will work to diminish the geometric line created by your jaw and hairline. If your hair is curly, ask your stylist to play up your waves, which will balance out your face's boxiness.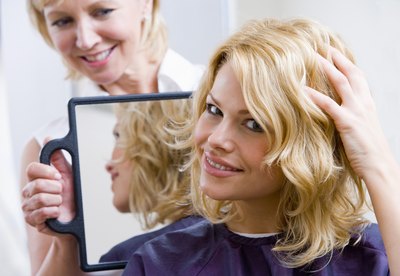 Basic Bob
A basic bob with some added volume and face-framing layers will help elongate and heighten a box-shaped face. Make sure the bob is at least an inch longer than your chin -- a chin-length haircut will only work against a strong jawline. Soft edges and a side part will also minimize the geometric lines of a square-shaped face.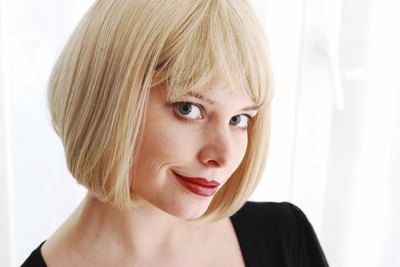 Side-swept Bangs
Wearing bangs swept over to one side of your forehead will create a diagonal line across your face, which will interrupt and soften the blunt angles of your strong hairline and jawline. Side-swept bangs paired with either a messy shag or a basic bob will give the effect of roundness, which will counteract the squareness of a boxy face.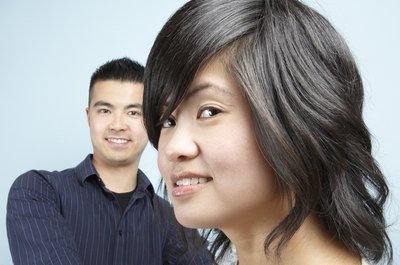 What to Avoid
The key to softening a square face is diminishing sharp edges. Avoid thick, blunt bangs which will only make the boxiness of a square-shaped face more pronounced. A straight, one-length haircut paired with a strong hairline and jawline will result in a very angular, blockish look. Stay away from very short pixie cuts -- without face-framing pieces, it is nearly impossible to curtail the distinct lines of a square-shaped face.