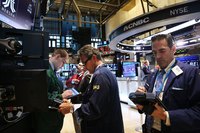 Stock market investing comes with its own terminology and jargon. Investors discuss buying shares in round and odd lots. The terms carried more importance in the days before online stockbrokers made trading any number of shares as easy as a mouse click. There are still a few circumstances where an investor must understand her "lots."
Round and Odd Lots
In the stock market a lot is 100 shares of stock. A round lot is any trade accomplished in multiples of 100 shares, such as 200, 500 or 5,000 shares. An odd lot is a stock trade where the number of shares bought or sold cannot be divided by 100. Any trade for less than 100 shares is an odd lot, as is a trade for 250 or 625 shares.
Odd Lot Considerations
Before the discount stockbrokers made the commissions level for any number of shares, a broker would charge a higher commission to fill an odd lot buy or sell order. And since the majority of stock trading was done in round lots, an odd lot trade would sometimes take a longer time to be filled. Trades for the odd lots under 100 shares could incur unmanageable high commissions. Investors would even buy a few shares to bring an odd lot up to a round lot to reduce future trading commissions.
Current Situations Requiring Round Lots
Using round lots is still required and recommended in certain circumstances. Stock option contracts are always for 100 shares of an underlying stock. A trader moving between stock shares and options works exclusively with round lots when trading. Traders who need to have orders filled in the shortest possible time -- measured in seconds -- should stick with round lots. The majority of stock market participants work with stock round lots.
Buy and Hold Investor
An investor interested in accumulating a long-term holding of a particular stock should not worry about round lots. If the share price has dropped to an attractive level and the investor has money to buy 50 shares, he should buy the 50 shares. Although odd lot charges are rare, an investor should always check with his particular broker and see if there is any commission difference for buying or selling odd lots.