The physical manifestations of a cold are effected by the strength of the immune system as it becomes heightened against the organism causing the infection. Skin rashes in association with a cold are a manifestation often seen among some of the common childhood infections such as measles, rubella, scarlet fever and chickenpox.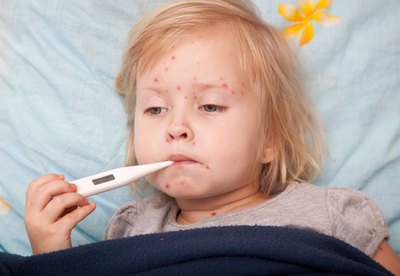 Measles
Measles is a viral illness that begins with two to four days of a respiratory illness that includes general feelings of malaise and fatigue, head congestion and nasal discharge, inflammation of the outer coating of the eye and high fever up to 105 degrees. Just before the appearance of body rash, small blue and white spots, called Koplik spots, develop inside the mouth. Soon after, the affected individual develops a characteristic red, non-itchy rash that starts at the hairline and behind the ears and spreads down to the body and includes the palms and soles. The rash often becomes confluent. This stage represents the most severe stage. The rash begins to disappear approximately four days after its appearance and may leave behind brownish discoloration and cause the skin to peel. Measles is a rare illness, particularly after the implementation of the measles vaccine. There were only 16 reported cases in the United States in 2008.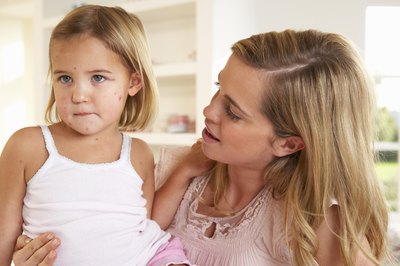 Rubella
Rubella is a viral illness that begins with a brief period of malaise, fever and poor appetite. The illness progresses to include inflammation and swelling of the lymph nodes of the head and neck and a rash that starts on the face and spreads to the rest of the body. The rash is similar to the red rash of measles except that it does not become confluent and it clears as it spreads. The rash usually completely clears three to five days after onset.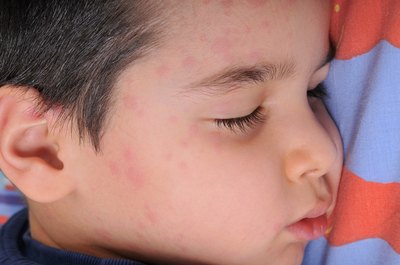 Scarlet Fever
Scarlet fever is the result of streptococcal bacterial infection and is characterized by sore throat and a distinct rash. The rash starts on the first or second day of the illness on the trunk and extremities but spares the palms and soles. It is made up of fine red raised lesions that together look like sandpaper and are accentuated in skin folds. Other associated signs of scarlet fever are pallor around the mouth and redness of the tongue papillae, called "strawberry tongue." The rash of scarlet fever subsides six to nine days after its appearance.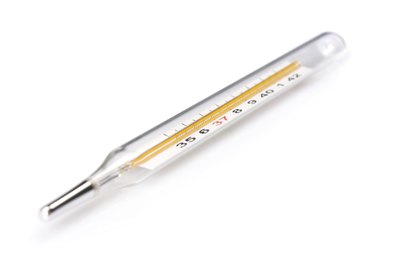 Varicella
Varicella, more commonly known as chickenpox, is a highly contagious viral illness with prominent skin manifestations. An attack begins with fever, malaise and rash. The rash initially presents as small raised red bumps that progress in hours or days to tiny fluid-filled vesicles. The last stage of the rash is when the vesicles erupt and scab over. The hallmark of the illness is the presence of lesions at all three stages.