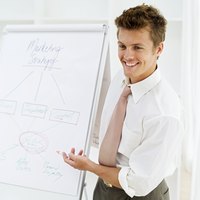 The Pareto Principle, or the 80/20 rule, has broad application in business. This rule emphasizes that most significant results in a given activity, or about 80 percent, are driven by a small number of subjects or items, or about 20 percent. For example, about 80 percent of a typical company's profit comes from about 20 percent of its customers. In marketing, the 80/20 rule suggests emphasis on strategies that reach the top 20 percent of customers who drive about 80 percent of revenue.
Customer Retention
In some cases, companies get so caught up with growth that they forget to care for their cash cow customers. The most loyal customers -- about the top 20 percent, who drive much of your revenue -- need and expect time and attention. It is important to establish customer service and retention goals that contribute to maintaining positive relationships with core customers. Customer relationship management programs are technology-driven approaches to collecting and using data to identify and target these top customers with rewards.
Market Penetration
Market penetration is an important first strategy to grow a business. Market penetration means digging deeper within an existing market segment to attract more customers and revenue. Before branching out to new segments, a company must make all efforts to promote its goods and services to the top 20 percent of customers driving about 80 percent of its revenue. When the business launches new products, top customers are often the easiest to sell to because they feel positive about the company. Referral programs are common strategies to get top existing customers to invite friends with similar needs and interests.