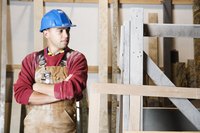 Suppose you're working in a construction yard and a truck backs over your foot, breaking it and making it impossible for your to return to work. You won't be able to make money on the job, but help may be available. Workers compensation is a type of insurance designed to assist people who suffer injuries while on the job. Programs are managed at the state level, and every state has slightly different rules for calculating benefits. In general, however, benefits for injured workers and their families fall into four broad categories.
Income Benefits
Income benefits offer injured workers financial support while they are unable to work. States use a variety of formulas to calculate benefit size and duration. In Texas, for example, eligibility for cash benefits varies according to the injured worker's average weekly wage, the state average weekly wage, whether the disability is permanent or temporary, and whether the disability is partial or total. Cash benefits typically don't start flowing until the worker already has missed a few days' wages. In New York, for example, workers can't receive compensation until they've been off the job for at least seven days.
Medical Benefits
Workers injured on the job usually enjoy medical coverage through workers compensation insurance programs. The exact extent of the coverage and the individual worker's liability for things like copayments vary state to state, but the coverage typically extends to visits to the doctor, prescription medications and surgeries, according to NoLo, a legal information site. Equipment like crutches and wheelchairs usually are covered. Medical benefits usually won't cover experimental medicine, however. Depending on your state, you might get to pick your doctor, or your employer might require you to choose from preset list of doctors.
Return-to-Work Benefits
Many states offer injured workers special benefits designed to help them return to the workforce. Eligibility for these benefits and the scope of the benefits vary widely from state to state. In North Dakota, for example, medical case managers meet with recovering workers to review their employment options and job aptitudes. The state also offers education scholarships in some circumstances. Hawaii offers career counseling, training and job placement to workers who are unable to return to their original careers due to injury.
Death Benefits
The families of workers killed on the job usually are eligible to receive substantial death benefits, including burial costs and income replacement for a period of time. New York, for instance, pays funeral benefits of $5,000 to $6,000, while North Dakota covers funeral costs of up to $10,000. Most states pay surviving family members some portion of the deceased's weekly wages, but states have varying rules for deciding who is eligible to receive benefits. Some states recognize only legal marriages, for example, while others recognize common law spouses.