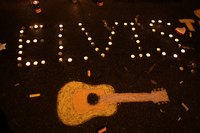 They say variety is the spice of life, and variety is what makes Tennessee such a compelling tourist destination. With landmarks that range from the historic to the paranormal, it's no surprise that Tennessee tourism generates as much as $15 billion annually. Tennessee welcomes visitors of all kinds and provides attractions that satisfy a wide variety of interests.
The Hermitage
The Hermitage in Nashville is the historic home of Andrew Jackson. This 1,000-acre National Historic Landmark is open to the public as a museum, and tours are available for schools and other groups. Visitors can choose from several seasonal tours of the Hermitage, including the Hermitage by Wagon tour, which takes visitors through the grounds on a horse-drawn wagon between the months of April and October. The Restoring an American Landmark tour covers the process of restoring the Hermitage after its fall into disrepair after the Civil War. Jackson's first residence, the first Hermitage, the Cotton Gin and Press, and other sites relating to slave ownership are included as part of this tour.
The Jack Daniel Distillery
The Jack Daniel Distillery has been in existence since 1866. It got its start as Miss Mary Bobo's, a hotel and restaurant. Located in Lynchburg, Tennessee, it is a National Historic Site and America's oldest registered distillery, according to Jack Daniel's Tennessee Whiskey. The distillery offers free tours to the public for those who wish to learn how Jack Daniel's iconic whiskey is made. The facility is open on most days other than major holidays.
Graceland
Graceland, the legendary home of Elvis Presley in Memphis, was opened to the public for tours in 1982. Visitors to Graceland can enjoy all things Elvis, from his costumes and records to his cars and other personal possessions. The facility offers a choice of three self-guided tours through the home and grounds. Graceland enjoys a reputation as the second most-visited private residence in America, with the White House being the first. In 2006, reports City Profile, Graceland was officially designated a National Historic Landmark.
Bell Witch Cave
Things take a turn for the paranormal in Adams, Tennessee, where visitors can tour the Bell Witch Cave. Two stories persist about the cave located on the former property of the Bell family. The first legend contends that the Bell family was beleaguered by a poltergeist at some time in the 1800s, and that the proper ritual could set the spirit free again. The second legend concerns the Native American burial ground that is located on the site. Followers of this legend contend that the cave is guarded against trespass and theft by another spirit with the power to bring bad luck, according to City Point. Thanks to its status as a Native American burial ground, the cave enjoys distinction as a historic site.