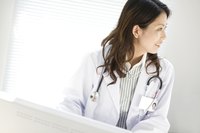 A doctor in private practice is her own boss. Up until 2005, most doctors worked in private practice, either alone or in partnership with other professional. Over the following decade, a majority of doctors became employees of hospitals or other health-care organizations. Being an employee offers the advantage of a steady paycheck, but it also leaves your career under the control of someone else.
Pros: Steady Pay
Private practice is a roll of the dice. The gamble is that you'll have enough patients to keep your doors open and pay your staff. If you sign on with a health-care provider, it's no longer your job to cover the payroll. You may be able to negotiate a better salary and benefits than what you earned when your practice was your primary source of income. When you take vacation time and sick leave, you don't have to worry about losing income as you might in private practice.
Cons: Compensation Changes
Most hospitals base pay partly on performance -- a base salary coupled with higher pay for meeting productivity goals. You may miss the goals through no fault of your own, so if your contract sets your base salary too low, you may end up worse off compared to a private practice. Down the road your bosses may set new metrics based on patient satisfaction or treatment outcomes that make it tougher to earn above the base. A new company may buy out the hospital and decide you're overpaid.
Pros: Not in Charge
Working for someone else frees you from the administrative responsibilities of running your own business. It's your employer's responsibility to bill patients, collect past-due payments, deal with staff complaints and manage the record-keeping. Electronic record-keeping offers big benefits in efficiency and patient safety, but the systems are also expensive. For a small practice, the costs of setting up digital records may outweigh the gains. The benefits flow mostly to bigger operations, which gives you an advantage in working for one.
Cons: Not in Charge
Once you're an employee, you no longer set your own hours or your office procedures. You may have to see patients you wouldn't normally choose to deal with, or end up assigned to an inadequate office space. In private practice, if you have conflicts with nurses or office staff, you're the employer so you get the last word. As an employee, you can't fire or discipline co-workers without going through your employer's procedure. That's going to be slower and more bureaucratic, even if you ultimately get your way.