The pillow, the covers, the mattress, the lighting, the noise level: It can get complicated when you're trying to control all the factors that can affect a good night's sleep. Now add one more, but this one is fairly easy to get right and will subtly work its magic to smooth away the fractious day and send you off to dreamland. Colors change the energy in a bedroom. From the walls to the pillow shams to the ceiling, pay attention to the visual cues you are sending yourself, or your fussy toddler, about falling asleep.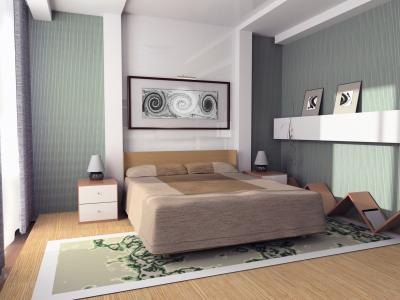 (kash76/iStock/Getty Images)
The color blue may actually lower your blood pressure, slow respiration and calm your heart rate. Think tranquility, ease, relaxation, and paint those walls ice-blue, sky-blue, clear lagoon blue or even a more definite periwinkle. A national hotel chain conducted a study of sleep patterns and discovered that people who slept in blue rooms got more sleep and awoke more refreshed than those in rooms of other colors. So go ahead and slather blue everywhere to beat your incipient insomnia. But be smart about it. All cool colors can go chilly or muddy in different light. Test a large swath of the blue you like in several areas of the bedroom during all light conditions to be sure it is uniformly calming and welcoming. A touch of blue's complement -- orange -- in an accent piece or an upholstery or bedding pattern will keep your blue room from looking too bland.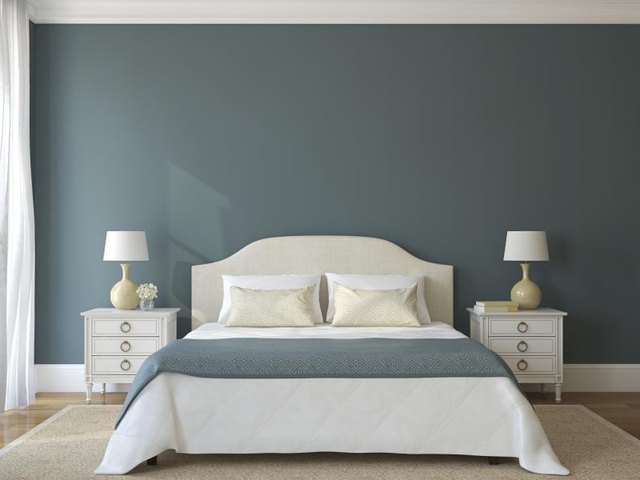 poligonchik/iStock/Getty Images
Green comes close to blue for relaxing and calming your frazzled nerves and racing mind. It has blue's serene vibe and the upbeat energy of yellow and --surprise! -- some cultures believe that green, the color of new life in the spring, promotes fertility, which could work well in a master bedroom. Choose a light shade for walls and test it twice; too much yellow in green can cast a sallow light over the room and react poorly to artificial light. Mix mint, spring green, slightly gray aloe, or pale jade with creamy vanillas, just a touch of cinnabar or a daring accent in flamingo pink. A very light green-turquoise is a soft shade with healing properties that can restore a sense of balance.
poligonchik/iStock/Getty Images
Your significant other will look as good as you do in a pink or apricot master bedroom that reflects flattering warm light over everything and everyone in it. So don't be shy about pink; the most pastel blush is nearly white on the walls or in the bedding. Soft pink tempered with cream trim is romantic, as is deeper rose. But skip the gaudy tropical pinks if you crave a restful bedroom. Intense pink has a lot of red energy in it and can't really be toned down. Try lilac on the walls or in sheets or drapes for relaxation and a connection to spirit. Deep purple is dramatic and generally not a good choice for a dreamy night. But just a hint of lilac or lavender opens your intuitive and imaginative mind so you can let go of the mundane and drift off into the aether.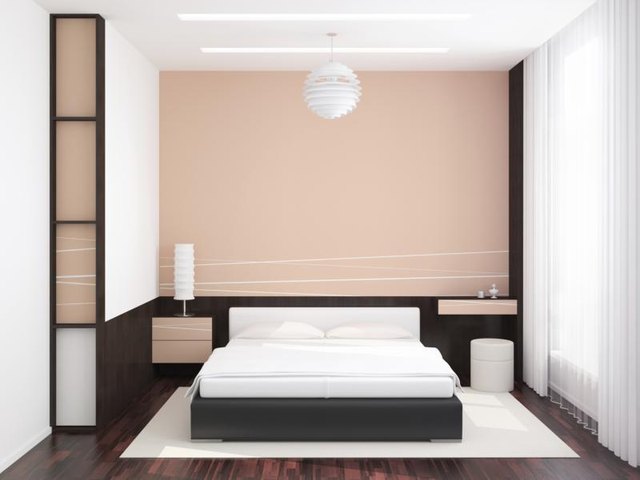 ssstep/iStock/Getty Images
An all-white bedroom can be chilly, but it can also be as enveloping as a soft, peaceful cloud. There are more shades of white than you can count, and you have to test thoroughly to find the snow, vanilla, antique white, bleached seashell, linen, canvas, chalk or cream that holds its own in your room. Test light bulbs, too, because every single one will change your white paint. Some throw off yellow light; some shine blue; and others mimic daylight. In a white-on-white bedroom, achieve nirvana by mixing textures and shades of white. Bed linens, woven blankets, chair upholstery, rugs, lampshades, curtains and whitewashed furniture add interest and variety to a "color-free" bedroom.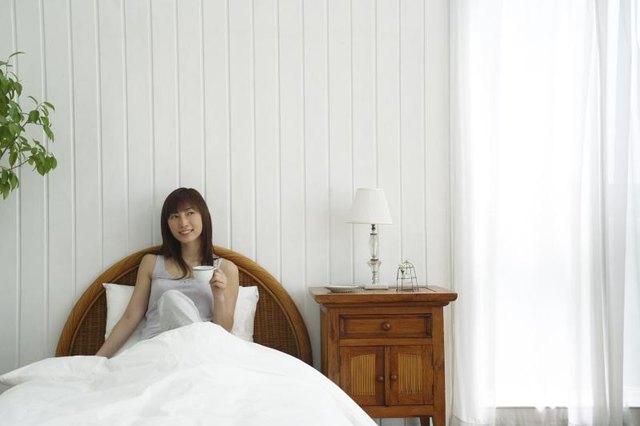 DAJ/amana images/Getty Images
Look up for some color real estate you may have been ignoring. The ceiling is a mostly unbroken expanse of color that defaults, almost invariably, to white. That can work to reflect light around a dark space, but it may not be the best choice for your bedroom. Ceilings lighter than wall color seem farther away and add the illusion of height to your bedroom. Ceilings that are darker than the walls bring that high ceiling down to size. If your ceiling is lofty enough to make you feel lost, a medium-gray ceiling over white walls could actually be cozy. A rose ceiling with blush walls creates a garden bower; add touches of spring- and rose-leaf green for grounding. Blur the boundaries by painting walls and ceiling the same shade. Remember that dark colors make the room seem smaller, and light colors make it appear larger.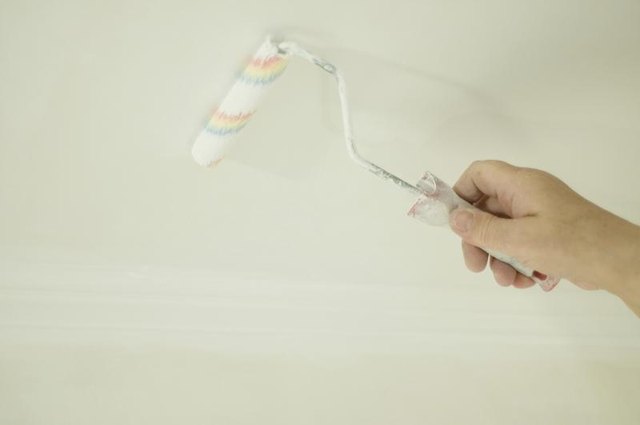 ForestMavka/iStock/Getty Images
Promoted By Zergnet