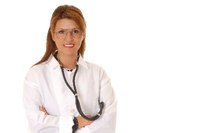 Nurse practitioners don't have as much training as a medical doctor but have more training than a registered nurse. Nurse practitioners command a higher salary than registered nurses but earn less than medical doctors. Becoming a nurse practitioner takes between six years and seven years.
Bachelor of Science in Nursing
To become a nurse practitioner, individuals must obtain a bachelor of science in nursing. Traditional four-year undergraduate institutions provide BSN programs. Many students in these programs apply straight out of high school, but some are already nurses trying to advance their careers. To apply, students must hold at least a high school diploma. Obtaining a Bachelor of Science in Nursing takes four years straight out of high school. However, nurses with an associate's degree or a nursing diploma can obtain the Bachelor of Science in Nursing in two years. This is because they're allowed to skip the first two years of general education courses in traditional programs. At the end of a program, students are eligible to take the National Council Licensure Examination for nurses. If students pass, they're awarded licensure as registered nurses.
Master of Science in Nursing with Nurse Practitioner Concentration
The next step on the road to becoming a nurse practitioner is to obtain a Master of Science in Nursing with a Nurse Practitioner concentration. Some types of nurse practitioners specialize in a particular area such as neonatology or emergency medicine. Different states have different licensure requirements for nurse practitioners. Graduates should contact their state's medical board to find out what their certification requirements are. Master's degree programs typically last two to three years.
Certification
After obtaining the master's, nurses must get certification as a nurse practitioner by taking a test administered by either the American Nurses Credentialing Center or American Academy of Nurse Practitioners. There are different types of certifications to choose from. Examples of different certification specialties include mental health, school nursing, family medicine, diabetes management and acute patient care.
Salary
The median salary for nurse practitioners in the United States as of March 2011 was approximately $90,000 annually, according to Salary.com.