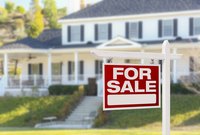 Short sales are referred to as distress sales for a reason. Like foreclosure auctions, they result from the owner's financial hardship. Research, negotiation and diligence can make a short sale a good deal for the buyer who's willing to wait for it. Short sales tend to take longer than traditional home sales because they require approval from the seller's mortgage lender. The lender analyzes the seller's financial hardship and decides whether to allow the home to sell for less than the mortgage balance due.
When Everything Falls Into Place
Rising home values push short-sale prices upward, bringing them more in line with traditional, non-distress sales. If you find a short sale that's within your price range when inventory is low, and the lender is willing to work with your offer, you are in a favorable position compared to many buyers shopping for a home at the same time.
Sellers Must Disclose Certain Facts
Short sales may be easier to inspect than auction homes and real estate owned properties. A foreclosed home held by a lender or trustee is vacant, systems may be dormant and the true condition of the home usually is questionable. Some lenders don't allow you to inspect the home before placing an offer. Disgruntled homeowners have been known to ransack foreclosed homes, stripping them of pipes and other valuable components when moving out.
Owners of short sale homes can occupy the property at the time of the sale and are responsible for maintaining the home throughout the short-sale process. Sellers can provide first-hand knowledge of the home's condition, unlike a lender. As with a traditional home sale, short-sale sellers are obligated to disclose known defects to buyers.
Sellers May Be Willing to Make Repairs
Buyers should always inspect a home before purchasing. Although a seller may disclose certain facts about a short sale home's condition, he might not know every little thing that's wrong with the place. You have a better shot at pinpointing existing or potential problems if you have the home inspected by professionals. Depending on the seller's situation, he may be more willing than a lender to make repairs. Also, as the home remains occupied during the short-sale negotiation period, new defects may come to light, such as leaks or electrical problems, that you might not have noticed if the home were vacant.
Good Things Come to Those Who Wait
Whether short sales abound or come a dime a dozen when you're shopping, you can score a home at a fair, or even reduced, price if you're willing to see the process through. If there's a shortage of homes for sale and you come across a short sale that meets your needs, you may face less competition for it. Other buyers may be turned off by the prospect of a long, drawn out approval process. If you're prepared to clear the hurdles that short sales can present and have a flexible timeline for buying a home, a short sale may be a good option.