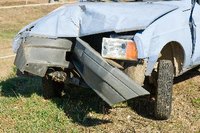 Maintaining comprehensive and collision coverage on your older vehicle may not be a financially sound choice. There are no specific guidelines to dictate when going with liability insurance is in your best interest. Drop full coverage insurance based on your car's current cash value, replacement cost and what you owe.
How Much Do You Owe?
Auto insurance protects you in three ways, with collision, comprehensive and liability insurance. Collision coverage pays for repairs or replacement should a car accident occur. Comprehensive coverage protects you from damage due to natural disasters and theft. Your lender may not allow liability-only coverage, which solely covers the other person's vehicle on your car if you owe on an auto loan. Speak to your lender before dropping your comprehensive and collision coverage. Even if the lender approved of only liability insurance, you would still be responsible for paying the remainder of your auto loan should a disaster, theft or accident occur. Coupled with the fact that you would need to repair or replace your current car, dropping full-coverage on a vehicle with an outstanding loan balance could be a costly mistake.
Replacement Value
Know your vehicle's actual cash value, or ACV, before dropping full-coverage insurance. Kelly Blue Book, Black Book and N.A.D.A. Guides provide estimates based on the year, make, model, condition and mileage of a vehicle. Be objective when evaluating the condition of your car -- dings, damaged upholstery and worn flooring all affect the value of your vehicle. Check with your insurance company for specific ACV estimates in your area. MSN Money suggests dropping full-coverage when your annual comprehensive and collision costs exceed 10 percent of what your insurance company would pay you in a claim.
Deductibles
Raise your deductibles an as alternative to dropping your full-coverage auto insurance. Raising your deductibles lowers your annual premium. Deductibles range from $250 to $1,000 dollars. Consider your financial situation when raising deductibles. If your funds are limited, you may have difficulty paying the higher deductible should you file a claim.
Considerations
Look at your driving record and neighborhood before making the decision to drop full-coverage insurance on your vehicle. If you are accident prone, consider lowering comprehensive coverage while maintaining adequate collision coverage on your car. If you are a safe driver, but your neighborhood is prone to theft, lower your collision coverage while maintaining adequate comprehensive insurance. Don't drop full coverage from your vehicle if you are upside-down in an auto loan or you do not have sufficient funds to cover damage to your vehicle.