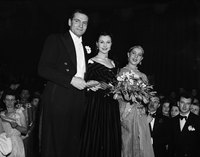 From the most dramatic red carpet events to the smallest town swing dances, the 1940s was a time for distinctive evening gown and party-dress fashion. One of the strongest impacts on the style of the decade was World War II, as the economics and ethics of wartime influenced fashion in the United States and beyond. Even at formal events, it was not uncommon for women to skip traditional long gowns in favor of cocktail dresses or even suits.
Broad Silhouettes
Especially common during this era were dresses that created distinctive silhouettes that were broader at the shoulder than the hip. While many think of the 1980s as a time for shoulder pads, designers of the 1940s used them decades prior to create the effect of a more heightened shoulder and slimmer hip and waistline. For evening gowns, shoulder pads were especially employed because they were a reusable and affordable style element even despite wartime rationing.
Christian Dior's "New Look"
In 1947, Christian Dior made fashion history with the release of a collection called the "Corolle" line. Coined the "New Look" by the media, the line made headlines for using far more material than was common during wartime -- a practice once considered exorbitant or wasteful soon became a symbol of changing times, peace and prosperity. The New Look featured silhouettes with rounded shoulders and full, long skirts. Busts were padded to create softer, more curvaceous shapes.
Color and Materials
During the 1940s, access to fine fabric and materials was limited for both professional and home dressmakers. Any materials that could be used for military applications were restricted, and some manufacturers tended to over-comply as a sign of respect to the war effort. Whether dresses were made with cotton or rayon, they were subject to limited fabric availability. Colors of dresses were often more drab than vibrant, again as a result to fabric restrictions. To keep the looks joyous and feminine, women used bright accessories and makeup.
Dress Lengths
Even though conserving fabric was essential during wartime, it was not uncommon for women to wear long gowns during the evening and special events. However, for events that involved swing dancing, more daytime-appropriate knee-length dresses were often preferred. Especially when wearing shorter dresses, women wore stockings under their dresses for warmth as well as modesty. However, if the materials were not available, some women would resort to putting makeup on their legs to look like nylons -- even going so far as to draw on seams up the back of the leg to look more convincing.